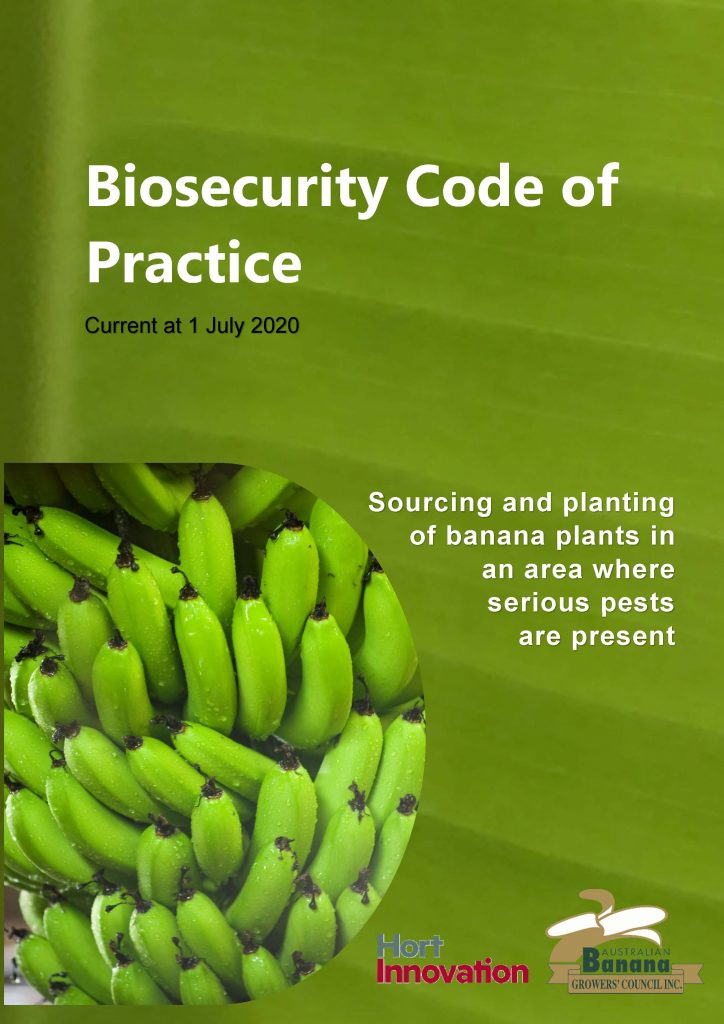 The Australian Banana industry will soon have a new Biosecurity Code of Practice to help protect it from devastating pests and diseases.
The Biosecurity Code of Practice for Planting Material clarifies industry's expectations of growers in high risk biosecurity areas when they are sourcing and planting banana material.
Outlined within the code are the minimum reasonable and practical steps to be considered to mitigate biosecurity risks associated with planting material.
An extensive consultation period on the draft Code will finish this month, with grower feedback incorporated into the final version for publication by the end of August 2020.
The Australian Banana Growers' Council (ABGC) and Biosecurity Solutions Australia jointly developed the Code in consultation with a banana industry reference and stakeholder group.
The Code is directed at banana growers and their employees in a biosecurity or a control zone known to be infected with serious banana pests.These zones occur across Australia, however, in Queensland and New South Wales risk is addressed through a combination of strict regulation and a requirement for a grower to meet their general biosecurity responsibilities established by law.
The Code, however, is equally applicable for areas outside these zones.
Serious banana pests and diseases have had a major impact on the national banana industry in recent years.
ABGC Research and Development Manager Dr Rosie Godwin said the movement of new and potentially infected planting material, and any soil that maybe present on this material, poses a considerable
risk of spreading pests and diseases within and between properties in a production area.
The biosecurity risk to individual growers and the broader industry is significant.
"Every grower already has a choice to protect their own farm by implementing on-farm biosecurity best management practices," Dr Godwin said.
"Despite a grower's best efforts, once an infestation establishes on neighbouring properties there is only so much a grower can do to stop it spreading to their farm.
"Simply put, this Code should be viewed in the context of what are the minimum steps a grower would expect their neighbour to take to prevent pest establishment, then natural spread onto their farm, when they bring in or move planting material on the farm.
"A number of requirements are already established under law and these requirements must always be followed despite what the Code says.
"However, where not already specified, the Code will provide a single and clear reference for what the industry believes are reasonable and practical steps in supporting a grower to meet their general biosecurity responsibilities – the General Biosecurity Obligation (GBO) in Queensland and, the General Biosecurity Duty (GBD) in NSW.
"Publishing this Code gives our industry control in determining its own biosecurity future. That is, the industry supporting government in deciding if growers are meeting their GBO or GBD in the way they use planting material.
"Importantly, with this Code of Practice each grower can also determine a better way than what is provided in the Code, as long as their preferred method is equivalent or better than the ways described in the Code."
Dr Godwin said biosecurity was a serious matter for all growers, with high health planting material the foundation of healthy plantations.
As confirmed in the Code, all growers have an obligation to be aware of pests, diseases and weeds, for example, Panama disease TR4, Race 1 and Bunchy top virus, and take action to prevent their introduction and spread.
Biosecurity Solutions Director Grant Telford said the Code aimed to help growers gain a better understanding of on-farm biosecurity and how a systems approach works when tackling biosecurity
risks in relation to production and sourcing of banana planting material.
"Sometimes the preferred option isn't always reasonable and practical," Mr Telford said.
"Even simple steps such as monitoring new plantings, keeping and maintaining records, and training staff can make a huge difference in quickly responding to pest detections and limiting the damage they can cause."
Dr Godwin said the Code represented a whole-of- industry approach to minimise biosecurity risks and protect the Australian banana industry.
"The ABGC sees this Code as an industry first in utilising provisions under current legislation and a tremendous step for the banana industry in biosecurity management," Dr Godwin said.
"This is not about imposing additional regulation but setting a flexible baseline and protecting growers from biosecurity risks created outside of their sphere of control.
"Once finalised, ABGC will present the Code to relevant state governments for their endorsement and support."
The Code has been developed through Hort Innovation project BA18000 Banana Bunchy Top Virus (Phase 4) National surveillance and education.