The National Banana Bunchy Top Virus Program
The Phase 3 of the National Banana Bunchy Top Virus (BBTV) Program in currently underway in Queensland and New South Wales funded by Horticulture Innovation Australia and led by Mr Barry Sullivan. The aim of this Program is to control and contain the disease within the Bunchy Top Zone and work towards eradication in commercial plantations.
If you suspect Bunchy Top Virus is present on your property please call 0418 696 596.
Not sure what to do?
This short video shows how to treat infected plants.
Find out about Bunchy Top by watching the short, informative video Banana Bunchy Top disease in Australia (below). You'll see the symptoms and find out how the banana industry's Bunchy Top National Project is working to control the viral disease which threatens Australia's commercial banana plantations as well as backyard and hobby-farm banana plants.
There are tell-tale signs of Bunchy Top. In the video Banana Bunchy Top disease – see the symptoms (below) you'll see footage of:
Short dot-dash lines appearing along the veins of the youngest leaf starting from the mid rib and/or dark green stripes running along the mid rib and may also appear down the stem of the plant.
members of the Bunchy Top National Project treating infected plants.
Please note: this clip is from our media-information package and includes footage only, there is no audio.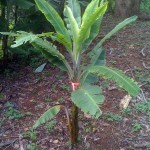 Banana Bunchy Top has been in  Australia for more than 100 years. It is a serious viral disease that threatens all banana varieties in commercial plantations and in backyards.
In Australia, it is only found in parts of South East Queensland and Northern New South Wales. We need to stop the spread to other regions, particularly the banana-growing regions of Far North Queensland.
Over the past six years, our Bunchy Top National Project team has managed to survey all of the commercial plantations in the Bunchy Top Zone (parts of South East Queensland and Northern New South Wales) and now the  extent and spread of the disease is known.
Inspectors from the National Bunchy Top Project continue to inspect commercial plantations in the Bunchy Top Zone (parts of South East Queensland and Northern NSW) controlling detected infections when found.  They also carry out inspections of backyards within buffer zones adjacent to commercial farms and other areas when necessary.
Control and eradication measures are in place.
Importantly, we know Bunchy Top also exists in home gardens so we need your help in our quest to control this disease. With community support and participation, everyone can help us rid plants of this disease so we all have healthy bananas.
What does Bunchy Top look like?
In its early stages, the symptoms are difficult to see to the untrained eye. The first symptom is short dark dot-dash lines appearing along the veins of the youngest leaf starting from the mid-rib.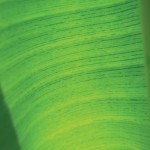 You can see these dot-dash lines best when you look upwards towards the sky through the bottom side of the youngest leaf. Dark green stripes running along the mid-rib of the infected leaf may also be present. When the disease is more advanced, each new leaf becomes shorter, narrower and stands more upright, giving a 'bunched' leaf appearance – that's why it is called 'Bunchy Top'.
Plant growth is stunted and the leaves roll slightly upwards and tend to become yellow or light green (see picture of an infected plant, above right).
Bunchy Top is difficult to identify in its early stages in any banana variety, including Cavendish and Lady Fingers, but if you bananas don't look healthy and are not throwing healthy bunches, it is  possible they have Bunchy Top.
How is it spread?
Bunchy Top can only be spread in two ways: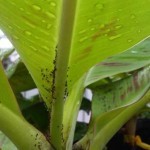 1. Banana aphids
The aphid is a small black insect which looks similar to other aphids you see in your garden.
The difference is that the banana aphid spreads Bunchy Top after it has fed for many hours on an infected plant. Aphids can be carried many kilometres on the wind, so they can progressively randomly infect many bananas in both plantations and backyards.
2. By infected planting material
The biggest problem is that well meaning people give away young plants or suckers to neighbours and friends.
In some areas, this is illegal, as infected material can unknowingly be spread. When the plants are young, you cannot see if planting material is infected.
Please don't share plants – we can only win the fight with your help!  You must have a permit to move banana plants in Queensland and Northern New South Wales. You can purchase your disease-free planting material from a QBAN (Quality Banana Approved Nurseries) accredited nursery. A list of these nurseries and information about permits appears on the Queensland Government's Department of Agriculture and Fisheries website.
Permits are no longer required in Queensland but landholders are bound under a general biosecurity obligation to do the right thing.  For further information contact the Customer Service Centre for the Department of Agriculture and Fisheries on 132 523.
In New South Wales contact the Department of Primary Industries 1800 084 881 or email quarantine@dpi.nsw.gov.au as permits are still required within certain areas.
How does it affect plants?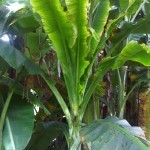 Banana plants infected with Bunchy Top will produce only small bunches, or no bunches at all.
The plants cannot recover from the disease and new suckers will also be infected.
There is only one solution if you want to have healthy bananas – infected plants need to be destroyed  – but it is critical that you follow the right methods.
Not sure what to do?
If you think your banana plant/s might have Bunchy Top – DO NOT CUT THEM DOWN or disturb them in any way.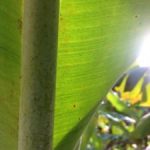 If you would like an experienced opinion from our inspectors about your banana plants, please take a selection of photos to provide us with a good picture of the health of your plants. Essential are photos of:
the whole plant showing all the  leaves
a close-up of the underside of a newly-emerged leaf, so that light is shining through from the other side
the mid-rib of the leaf.
Then email them to bunchytop@abgc.org.au or woodyweed@hotmail.com so that an assessment can be made. If they are clean, that's great. If they have Bunchy Top, then they must be destroyed.
Chopping off infected plants will NOT stop this disease – in fact it is likely to do the opposite as infected aphids fly away.
When the next sucker grows, it will definitely show signs of Bunchy Top and not yield any fruit.
The control action is two stage and it is simple:
Any aphids on the plant/s need to be killed and stopped from spreading. You need to:

spray the whole plant (especially where the leaves emerge from the main trunk and around the base of the plant or clump) with SACOA Biopest Oil (certified for organic farming) or any highly refined paraffin oil. This will drown any aphids

Then, the plant/s needs to be destroyed and this can then be done by:

injecting the plant with a solution of Glyphosate and water to a strength of 1 part Glyphosate to 5 parts water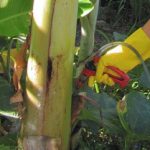 alternatively, the "cut and kero" method works too – scoop the middle out of the stem or trunk and pour kerosene into the well. You will need to re-treat as the backward eyes or buds will not be killed by the first application to the mother plant.
if chemicals are not used, then infected plants must be physically destroyed and that's hard work!
The plants can take several days before they will start to show signs they are dying.
Once the plants, including suckers, have turned yellow and started drying out it is safe to chop them down and, if you wish, replant with healthy suckers.
Background to the Bunchy Top National Project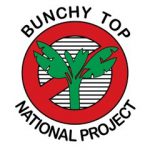 Phase 3 of the Bunchy Top National Project is now underway. It is the third stage in a 10-year plan to eradicate/control Banana Bunchy Top disease from commercial plantations.
This project is being funded by Horticulture Innovation Australia Limited using the banana industry levy and funds from the Australian Government.