Best Management Practices
Banana Best Management Practices Environmental Guideline (BMP) is a national research project developed at the request of and in partnership with the banana industry.

Login
Banana Congress
22-24 June 2017, Sydney

The Australian Banana Congress is the most significant gathering of growers, leaders, innovators and service staff in the industry nation-wide.
It occurs every two years and brings together an exciting, and inspiring array of speakers to spark ideas which then grow the industry and its people.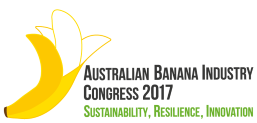 Australian banana growers will be privy to world class scientific research at this year's industry Congress. World leading researchers, Dr Frederic Bakry (France) and Professor Randy Ploetz (US) will ...
 Big names set to star at Banana Industry Congress The Australian Banana Industry Congress (ABIC) is shaping up to be a great excuse for banana growers to get off farm and join other growers and indus...
Banana Nutrient Management with Sellars Bananas
The Australian Banana Growers' Council (ABGC) is the national peak industry body representing the interests of Australia's commercial banana growers
Bananas are Australia's number-one selling supermarket product, outselling not only every other fruit and vegetable but every other supermarket line
More than five million bananas are eaten every day in Australia
Bananas are a healthy and nutritious food containing potassium, vitamin C, vitamin B6, folate, niacin and riboflavin. They have a low GI rating and give a sustained energy boost.
Bananas are Australia's single biggest horticulture industry and the largest horticulture industry in Queensland
Best Management Practices
The Banana Best Management Practices (BMP) Environmental Guideline is a national guideline to encourage continual improvement and adoption of best practice throughout the banana industry.
BetterBunch
The Banana industry's 'Better Bunch' app is a time-saving device to assist growers in their everyday recording of farm practices to complement their BMP.
Membership
The ABGC represents the interests of the Australian banana industry and our work is funded by voluntary membership fees
Social Media
Stay up to date on the latest news from ABGC with your preferred social media.
Subscribe to our email list today!
*this form uses Invisible reCAPTCHA technology and is subject to the Google Privacy Policy and Terms of Use.