For more than two years, the Australian banana industry has held its collective breath, hoping heavily that Panama Tropical Race 4 would remain at bay, following Queensland's first TR4 detection in March 2015.
But after confirmation of a second farm incursion in the far north's Tully Valley, the new challenge has been accompanied by a renewed sense of conviction in continuing the industry's biosecurity efforts – thanks in no small part to the family at the centre of the latest outbreak, who are confident of winning the war against this latest threat.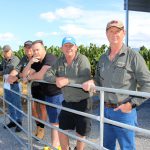 By Sonia Campbell
As a pioneering family that has farmed bananas in Queensland for more than 70 years, the MacKay Farming Group has had its fair share of knocks along the way.
But you don't become one of the nation's largest and most successful primary producers without a steely resilience and a fighting spirit to land some knockout punches of your own.
It could be said that the MacKays will need to draw on past experiences to overcome their latest challenge, following confirmation that a small, isolated section on one of their Tully Valley properties, had tested positive to Panama Tropical Race 4.
But, as an industry leader in establishing world-class biosecurity practices across their extensive banana farming network, it's a battle they had been armed and ready for, long before now.
"It's not the first kick in the guts we've had and it won't be the last," a defiant, yet upbeat Cameron MacKay tells.
"We're farmers, that's how it works."
Brother Daniel Mackay adds, "it's unfortunate, but it's happened, and we have to deal with it and do the best we possibly can. But everyone can be assured that we are doing everything possible to contain any spread from this isolated pocket.
"Without doubt, our biosecurity practices have helped us deal with the situation better. That has been key. Without it, I don't think we would have been able to continue the way that we have. It's a big part of going forward."
Cameron and Daniel, along with their brother Stephen and their cousins Barrie and Gavin, are third generation banana growers and manage the family's MacKay Farming operations.
They are a tight-knit entity and together they are a formidable farming force. They are hard-working, humble and all very much dedicated to continuing a family legacy, founded by their grandfather Stanley MacKay, and built-on by their equally progressive and visionary fathers, John and Robert.
Stanley planted his first banana crop in North Queensland in 1945, going on to pioneer the banana industry across Northern Australia. Today, the family is the country's largest banana producer.
When Panama TR4 was first detected in the Tully Valley in March 2015,  the family quickly embraced tightened biosecurity measures as part of their farming practise.
Almost immediately, they set about establishing a sophisticated biosecurity plan, based on a colour-coded zonal system, establishing red, green and yellow zones on all of their farms.
The system has since been incorporated into biosecurity practices championed by Biosecurity Queensland and the Australian Banana Growers' Council, including establishing 'clean' zones – taking in farming and packing areas – that are separated from areas where vehicles, equipment and people enter and leave properties.
The MacKays also introduced colour-coded gumboots for different zones and fitted each farm with the latest footbaths, wash down facilities and chemical dips.
"Most people have enacted their biosecurity plan and they just need to keep being vigilant with it, because that has been our saving grace, that we've got a good system in place," Stephen said. "And, we have confidence in our industry."
Barrie agrees, "with all the biosecurity measures that we have already put in place, it has made it a lot easier."
"We've been a family farming business for 71 years and I believe that we will be farming bananas well into the future. We have confidence in holding back this disease where it is and managing it and moving forward and growing bananas for a very long time to come."
Cameron said establishing an effective biosecurity system well in advance of a TR4 outbreak was key to containing the soil-borne disease.
"Biosecurity is a culture, it's not something that you just go and start tomorrow, it's a culture that builds and growers need to start fostering that culture in their businesses," he said.
"They don't want to be walking in one day and have to do it starting from scratch, they want to have their biosecurity systems well in place before they have to deal with an outbreak."
Gavin added that having effective biosecurity systems in place today, meant the industry was much better placed to contain TR4, than it was in 2015.
"Two years on, a lot of the industry is much more prepared for something like this. But you really do have to have those separated zones on your farm to limit the cross contamination, that way you can prepare yourself the best you can for anything that may happen," he said.
The MacKay family said the support they had received from staff and assistance offered from other growers had been overwhelming and they were thankful for the generous offerings.
"A lot of our staff and the people that work for us have done an awesome job to get everything happening and we owe a big thanks to those guys," Cameron said.
"Also, support from other growers. We have had phone calls and texts offering support.  You don't realise how tight-knit the banana growing community is until something like this happens."