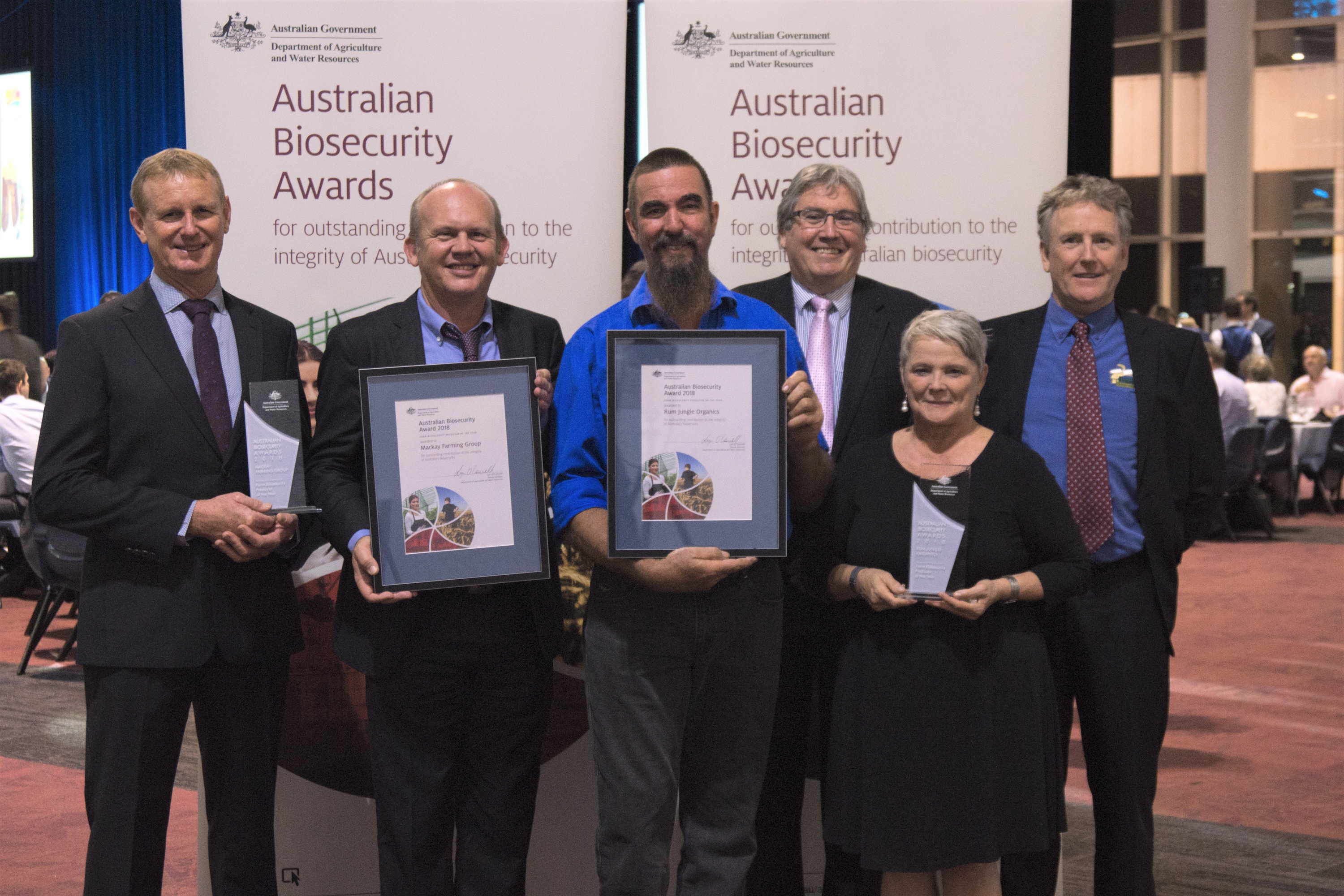 Two Australian banana farms have been recognised on a national stage for outstanding biosecurity practices, proving size is no barrier to best practice.
Mackay Farming Group (QLD), Australia's largest banana producer, and Rum Jungle Organics (NT), who farm 2.5 hectares of the fruit, have each received a Farm Biosecurity Producer of the Year award.
Amy Spear reports.
MACKAY FARMING GROUP  
HARD WORK PAYS OFF FOR MACKAYS 
The Mackay Farming Group is widely regarded as an industry leader in establishing world-class biosecurity practices.
Following the initial outbreak of Panama Tropical Race 4 (TR4) in Queensland in 2015, the company established a plan based on a colour-coded zonal system.
This involved using different coloured gumboots in different areas and fitting each farm with footbaths, washdown facilities and chemical dips.
In July 2017, their Bolinda Estate tested positive for Panama TR4.
But, thanks to their exemplary commitment to biosecurity protocols, their packing shed stopped for just two hours after the initial quarantine notice was issued.
ABGC Chair, Stephen Lowe, said the Mackay's contribution to Australia's biosecurity effort went well beyond their own farm gates, consistently offering to share their knowledge to the wider banana industry.
"There is no question that the Mackay's input into banana industry biosecurity best practice has set benchmarks for our industry," he said.
"They have been open and generous in sharing their knowledge, particularly with those growers in the high-risk TR4 zone in the Tully Valley, and for this the ABGC and industry is extremely grateful."
Director Cameron Mackay noted that the level of preparation they had gone to certainly helped once the quarantine notice was issued at Bolinda Estate.
The Mackays were grateful to be acknowledged for the efforts that they have put into their farms.
Gavin Mackay (director) adding, "Seeing all the other industries at the Biosecurity Awards ceremony highlighted that biosecurity is an issue for all of Australia, not just for banana growers."
He returned to the farm determined to further evolve and improve biosecurity systems, knowing TR4 wasn't the only threat to agriculture in Australia.
RUM JUNGLE ORGANICS 
HIGH ACHIEVERS IN TOP END 
Alan Petersen and Julie-Ann Murphy, of Rum Jungle Organics, thought their business might be too far out of the norm to take home a national award.
Based just over an hour south of Darwin, they only sell locally, farm organically and run a small operation.
Needless to say, they were delighted.
"We were very excited when we were told we won and then realised how prestigious it all really was," Ms Murphy said.
"We were very proud to represent organic farmers, the NT, banana farmers and the little guy."
Mr Petersen and Ms Murphy have farmed at Rum Jungle for 18 years. When Banana Freckle was detected on their property, and their crop had to be destroyed, they were in shock.
"We had chosen an isolated area, with good water, soil and highway frontage to set up our farm. We had strong healthy plants, soil with good biological activity, we were biosecurity aware—and yet we still had freckle."
The eradication process, now in its final phase, affected them both personally and financially. They drew on their superannuation and Ms Murphy took up another job.
"We thought a lot about giving up, selling the property and changing crops, but these options didn't suit who we were or what we wanted to do with their lives."
They instead turned their attention to creating an even stronger biosecurity plan, one that reflected their organic, regenerative principles.
"Our plan is a living document and we constantly update based on new information," Ms Murphy said.
One of the main changes has been limiting and recording the movement of people onto their property.
The growers have negotiated deals with Telstra, Power and Water and Main Roads, and have a designated farm vehicle.
They also implemented a seeds and propagation materials register and isolation fenced their new plantings.
"Our plan reflects our belief that plant and soil health are essential tools of biosecurity practices," she said.
In collaboration with Animal Health Australia and Plant Health Australia, through the Farm Biosecurity Program, the Farm Biosecurity Producer of the Year  Award was a new category added to the Department of Agriculture and Water Resources Australian Biosecurity Awards 2018.
The award recognises primary producers that have made an outstanding contribution to the integrity of Australia's biosecurity.
Recipients must demonstrate exceptional on-farm biosecurity practices, including proactively advocating biosecurity best practice within industry.