In this three-page feature, Biosecurity Queensland answers some frequently asked questions about Panama TR4, including long-term industry management and what to expect once issued a notice of affected land.
By Deanna Belbin, BQ
HOW DO BQ WORK WITH A SUSPECTED INFESTED FARM? 
The following article should help to clear up any misconceptions about how Biosecurity Queensland works with growers who have a suspected or confirmed case of Panama disease Tropical Race 4 (TR4) on their property.
Growers should remain assured that, at all times, Biosecurity Queensland is committed to getting their farm back in operation as soon as possible while ensuring any risks to the wider industry are minimalised.
Once there is a reasonable belief that a farm is suspected of having TR4, the business owner is given a 'Notice of Panama disease Tropical Race 4 affected land' (notice).
The notice details the biosecurity requirements that the owner must meet in order to continue trading and protect the wider industry from
spread of the disease.
It is important to note that production down time can be minimised if the business has:
a good understanding of biosecurity measures;
an on-farm biosecurity management plan; and
implemented a reasonable level of biosecurity measures that minimise the risk of disease spread from their property.
A small team of Biosecurity Queensland (BQ) staff will work closely with the business owner to provide practical advice and assistance on how they can best meet the requirements of the notice.
A notice may require a property owner to implement or improve biosecurity measures such as:
farm and shed zoning protocols;
fencing and signage;
decontamination and wash-down facilities;
the records to be kept by the business; and
how Biosecurity Queensland will monitor the property.
BQ officers will ensure that vehicles, machinery, equipment and fruit coming off the property are free of soil and plant material. This is to protect the wider industry and contain the disease as much as possible.
Surveillance teams will visit the suspect property to determine the possible extent of the disease. They may visit other properties linked through shared machinery and equipment or planting material.
For more information on surveillance refer to 'Surveillance and testing for Panama disease Tropical Race 4' on the Biosecurity Queensland website at www.biosecurity.qld.gov.au.
Biosecurity Queensland investigates the potential spread of the disease by tracing possible pathways of disease movement.
The business owner completes a tracing survey relating to the movement of any plant material purchased and planted, machinery movement and farm contractors.
For more information refer to 'Frequently Asked Questions' in the Panama disease section on the BQ website.
If Panama TR4 is confirmed on a property, a destruction protocol for infected plants is carried out.
Destruction is carried out under the supervision of BQ officers and adheres to strict biosecurity measures to ensure the disease is not spread any further on the farm or is a threat to the wider industry.
BQ continue to work with the business owner to meet their ongoing biosecurity obligations and to offer advice and support whenever necessary.
In close collaboration with the Australian Banana Growers' Council (ABGC), Biosecurity Queensland ensures the industry is kept updated on any developments and that information delivered to growers is accurate and timely.
If a notice is given, those growers who are prepared for a detection of Panama TR4 on their properties, with on-farm biosecurity measures already in place, will be best placed during what will be a challenging time for their business to meet the biosecurity requirements and resume trading.
For more information on how you can be prepared refer to 'Information and Resources for Banana Growers' on the Biosecurity Queensland website.
WHAT CAN GROWERS DO TO MANAGE TR4? 
By now growers should have a plan of attack to respond to a Panama TR4 detection on their farm.
As the current two operating infested properties have shown us, a well-prepared property with established biosecurity measures will be trading again far more quickly than a farm that has limited or no biosecurity measures in place.
Preparing your farm for Panama TR4 may not be as daunting as you think.
Many growers are problem solving their biosecurity issues and implementing innovative and cost-effective ways to protect their farms.
It's okay to think outside the box. Ask a Panama TR4 Program biosecurity officer if you're unsure of the effectiveness of your methods—we're here to help. Contact the Panama TR4 Program by phone on 07 4091 8159 or via email panamatr4@daf.qld.gov.au
As a baseline, there are some basic and relatively inexpensive ways to protect your farm and the wider industry.
Zone your farm into three zones: exclusion, separation/clean zone and farming/dirty zone. Exclusion is a good starting point—keep unnecessary vehicles and machinery out of your banana paddocks.
Manage the footwear of people visiting you farm. Provide clean shoes for them to wear and/or a footbath to decontaminate shoes on farm entry and exit.
Don't share planting material with other farms. Use your own suckers or source your plants from an accredited QBAN tissue culture nursery.
Visit the ABGC website for more information on preparing for Panama TR4 (https://abgc.org.au/2017/01/29/panama-tr4-kit/)
WHAT IS THE LONG TERM PLAN FOR MANAGING TR4? 
As part of the State Government's continued support to the banana industry in Far North Queensland, the Panama TR4 Program is undergoing a full program review to map out a long term control and containment plan for Panama TR4 in Queensland.
DAF have commissioned ACIL Allen Consulting to undertake a cost-benefit analysis on the control and containment of Panama TR4 in Queensland, and provide recommendations on a sustainable model for managing Panama TR4 going forward.
This will include which elements, if any, of the current program could be reduced or ceased, and how any ongoing activities should be delivered and funded. ACIL Allen will be consulting with a range of stakeholders to scope these options in April 2018.
They will report to Government in May 2018.
There will be further and wider consultation to explain and develop the recommendations so the arrangements to continue the important
collective industry and government response can be implemented in a timely manner in the future.
If you require further information or have insights and information that will assist this scoping study please contact Amelia Foster at BQ on amelia.foster@daf.qld.gov.au, Jim Pekin at ABGC Jim.Pekin@abgc.org.au or Jan Paul van Moort at ACIL Allen on jp.vanmoort@acilallen.com.au.
SURVEILLANCE & EARLY DETECTION
In December 2017, the Panama TR4 Program implemented a revised tracing and surveillance strategy to address risks and identify the best allocation of resources.
The strategy review was undertaken in consultation with the Australian Banana Growers' Council (ABGC), and the Department of Agriculture and Fisheries' Agri-Science Queensland team.
Surveillance frequencies and the approximate number of properties in each category are:
2 operating Infested properties—surveillance every six weeks;
21 Highest risk properties—surveillance every three months;
105 Medium risk properties—surveillance every six months; and
160 Lowest risk properties—no surveillance by Biosecurity Queensland.
All growers in the region were sent a letter in the post advising of their property category and surveillance frequency.
If you did not receive your letter or you have a question about your property category or surveillance frequency, please phone Amanda Palmer at the Panama TR4 Program on 4091 8146 or contact via email amanda.palmer@daf.qld.gov.au.
Growers are encouraged to identify and report suspect plants to Biosecurity Queensland immediately on 13 25 23.
TELL US WHAT YOU NEED 
Biosecurity Queensland understands that preparing your farm for Panama TR4 requires adequate resources.
As part of our communications and publications review, BQ would like to know what areas of Panama TR4 you need to know more about and what additional resources we can provide so you can meet your biosecurity responsibilities.
For example, do you need more information on farm and shed zoning, disinfectants, your general biosecurity obligation or educational support for farm workers?
Send your comments to Sarah Flenley, Communications and Engagement Manager via email to panamatr4@daf.qld.gov.au or phone 0400 867 264 or 4091 8159.
CONTINUED GOVERNMENT INVESTMENT
By Deanna Belbin, BQ
Following confirmation of Panama TR4 on a third commercial banana farm in the Tully Valley in February, there were some concerns from industry as to whether the Palaszczuk Government would continue its investment in the current control and containment program.
With financial investment of more than $27 million over the last three years, the State Government has continued to provide resourcing for the benefit of the banana industry and the regional communities that depend on it.
The funding reaches across a diverse range of programs including:
on-ground surveillance activity;
management and containment operations;
education and awareness; and
longer term solutions in research and development initiatives.
In December last year, Minister for Agricultural Industry Development and Fisheries, Mark Furner, announced a further $3.5 million towards increased surveillance, research on chemical effectiveness in managing Panama TR4 and a three year feral pig control program, bringing the total state government investment in Panama TR4 to over $27 million to date.
The government acknowledges that the banana industry in Far North Queensland is one of the region's main economic contributors and biggest employer. We want farmers to keep selling bananas.
Longer term planning is currently underway to determine the best way to deliver the response to Panama TR4 in Queensland into the future.
The presence of TR4 has meant rapid change for industry in a relatively short period of time.
Even though there is still much that remains unknown about the disease, through government commitment and the hard work of industry,
Queensland has had greater success in controlling and containing the disease than anywhere else in the world.
PREPARING FARM FOR TR4
Q&A WITH PAUL GARLAND, PANAMA TR4 PROGRAM COMPLIANCE MANAGER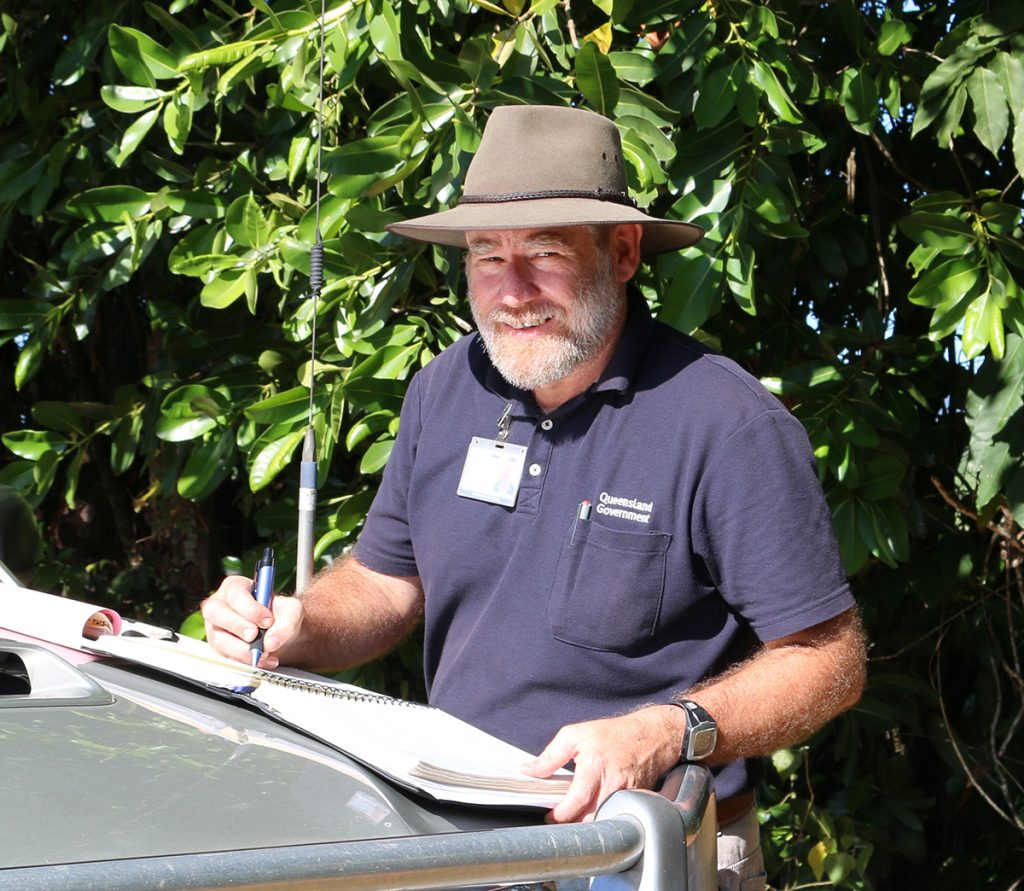 Through working with infested farms, Paul understands first-hand the challenges that growers face in working under a notice of Panama TR4.
He also works closely with the growers at highest risk of disease incursion, visiting their farms and giving them an opportunity to talk through some of the individual challenges they face in preparing a farm for Panama TR4.
Q. WHAT ARE THE KEY THINGS GROWERS CAN DO TO PREPARE THEIR FARMS FOR A PANAMA TR4 DETECTION SO THEY CAN RESUME TRADE AS SOON AS POSSIBLE?
A. The key to being ready for Panama TR4 is zoning your farm. This will be a different process for every grower, however zoning the property into different areas such as an exclusion zone, and separating clean zones from dirty zones is the first priority.
A clean access road is important as it allows suppliers and transport vehicles to enter the property so that a farm can continue to trade as soon as possible after a detection.
For a dirt access road to be 'clean' it must have a layer of material such as heavy grade rock or be sealed with bitumen.
The added layer minimises possible contamination from the pre-existing dirt road.
Once the clean access road is in place and approved by Biosecurity Queensland as meeting the requirements of a notice, it becomes an extension of the public road—so fruit transport trucks may enter and exit without restriction.
However, any items that trucks remove from the property may need to meet additional requirements to ensure that they are free from soil and plant material.
Also, water run-off and water drainage should be managed wherever possible to prevent crosscontamination between clean and dirty zones.
Growers should contain water run-off to their farms by installing bund walls and/or heavy grade rock.
Avoid putting in drains that direct water into neighbouring properties, roadways or waterways.
For more information on farm zones and water drainage, refer to the 'Banana best management practice for on-farm biosecurity' at https://horticulture.com.au/wp-content/uploads/2017/06/On-farm-Biosecurity-Manual.pdf.
Q. WHAT REQUIREMENTS APPLY TO PACKING SHEDS UNDER A NOTICE?
A. Zoning in the packing shed will help a grower meet their requirements under a notice.
How the zones are established will be different for every grower, and they know their farm better than anyone about the best way they can meet the requirements.
Bottom line is you need to separate dirty areas from clean areas.
The zoning system must ensure that the clean zone remains free from all soil and plant material at all times.
Fruit must progress from the dirty zone, where it is initially cleaned and graded, to the clean zone, where it is packed and ready to leave the property.
Q. BASED ON YOUR EXPERIENCE WITH HIGHEST RISK GROWERS AND THE THREE INFESTED FARMS, WHAT ADVICE CAN YOU GIVE THE REST OF THE INDUSTRY?
A. In general, the growers feel that the personalised information they received from Biosecurity Queensland gave them a better understanding of what they needed to consider when making operational changes to meet the conditions of a notice.
After we visited their farms and provided practical advice tailored to their farm, they were then able to plan what biosecurity measures they would implement so they'd be back in business as soon as possible if they were subject to a detection.
Q. WHAT DO YOU THINK ARE THE MOST COST EFFECTIVE WAYS OF PREPARING A FARM FOR PANAMA TR4 AND PROTECTING THE BROADER INDUSTRY?
A. Whatever growers do to protect their farms and the industry, big or small, is beneficial to themselves, everyone else and is part of our shared responsibility to manage the disease.
Farm biosecurity measures can be gradually built up as resources become available, but something is always better than nothing.
Some good starting points are:
implementing cleaning and disinfection processes that prevent soil and plant material from moving off a farm or between farm zones. Pump spray bottles filled with disinfectant so that people moving between zones can clean and disinfect their vehicles and boots where clean and dirty areas abut is effective. Vehicles, machinery and equipment must be cleaned to appropriate biosecurity standards. This means no traces of soil or plant material are present after washing, cleaning and disinfection. Remember, it takes just one fungal spore to infect a farm.
educating farm workers and field staff about Panama TR4. In most circumstances, it will be field staff who will notice symptomatic plants. Therefore, it is essential that your staff are trained to identify potentially diseased plants and that they understand the importance of reporting suspect plants to farm management immediately. Ensure all farm workers and contractors follow on-farm biosecurity procedures.
excluding visitors or trespassers from paddocks by using perimeter fencing and biosecurity farm gate signs. Fencing or barriers and signage within a farm can also direct movement within zones.
MOVING FORWARD
Most growers have focused on keeping the disease off their farms by implementing very small changes such as footwear baths and excluding unnecessary vehicles from their farms.
That line of defence should now be directed both ways, keeping the disease out while also keeping it in.
This could include measures such as making sure fruit leaving the property is free from soil and plant material and installing footwear exchanges where dirty boots stay on the property. Remember to 'come clean, leave clean' as a rule.