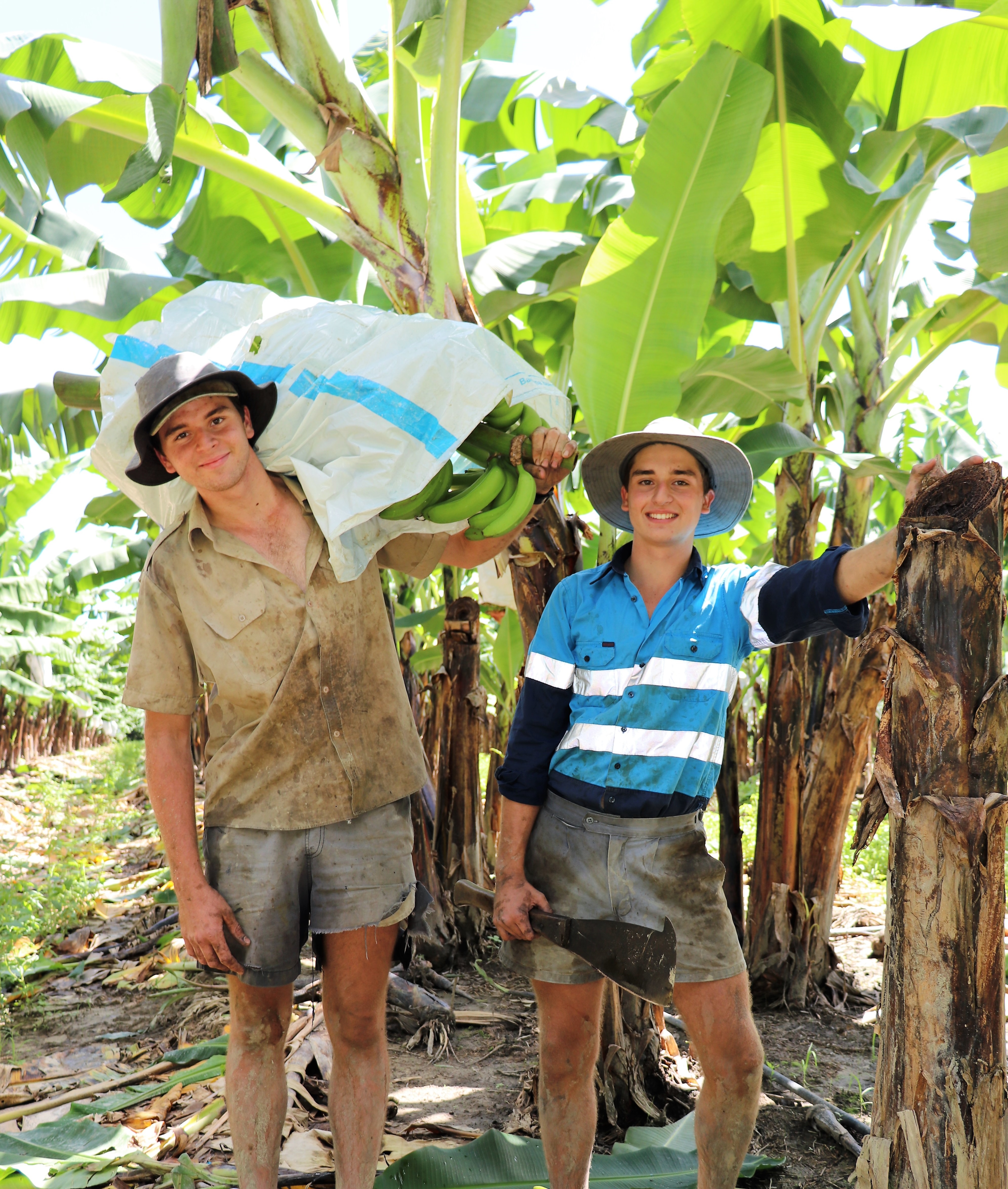 If you ever have any doubts about the future of the banana industry, sit down and have a chat to Gilbert brothers, Stuart and Angus. You will quickly learn the future is certainly bright, with these two young guns showing how it's done on their family's Far North Queensland farm.
By Sonia Campbell
To their mates, Stuart and Angus Gilbert are most likely just typical teenage boys.
But, on their family's Tully banana farm, they are the epitome of fourth generation farming prodigy.
At just 18 and 15 years of age, the young brothers can cut, hump and pack a banana bunch faster and "better than most" twice their age, according to their grandfather Paul.
It's little wonder though, when Mr Gilbert tells how his grandsons' have followed in their father's footsteps on the farm, since they could walk.
"They've been going out and working on the farm since they were in nappies. They probably didn't do much at first, but they still went out with their dad on the farm to work," Mr Gilbert recounts.
Sit down and chat with Stuart and Angus and there is no denying they have a genuine love of farming – and their knowledge of the industry is well beyond their years.
Stuart – the eldest of six siblings – has been working full-time on the family farm for the past three years.
Angus will join him full-time, after finishing school at the end of this year.
"It's what I've wanted to do since I was young. Our grandparents, great grandparents have all had farms at some point in their lives. It's always been there," Stuart said.
"I just love everything about it. Everything about it," Angus adds.
There's no shortage of sibling rivalry when out in the paddock together, with the pair constantly trying to out-do one another.
"We're always trying to beat each other. Just trying to have bragging rights I guess," Stuart said. Angus nodded in agreement.
The boys' father, Stuart (Snr) said he's extremely proud of his sons' achievements on the farm and that he'd always hoped his children would want a farming life.
"But in saying that, I would also be supportive of anything that they chose to do."
Stuart (Snr) said both the boys had been taught every aspect of working the farm and the business as a whole, but it's something they had wanted to learn about from a very young age.
"They are dedicated and extremely keen. Saturday mornings, Sunday mornings, they are there (on the farm) rain, hail or shine. There is no slacking with them.
"Angus, every afternoon after school, he'll come home, quickly have something to eat and then he goes straight down to the shed and starts packing bananas.
"Every facet of the farm they can do. They can do just about anything, and to a big degree, they can do it as good as any man. They are young, but they learnt young."
Stuart (Jnr) acknowledged that it was important to gain an understanding of all elements of the business, from the paddock to the pack house.
"I guess it's all important to get to the end product. If everything is not right, then it costs you in the quality of the bunch," he said.
Not surprisingly, the boys prefer the more active jobs. Angus admitting he's even tried skipping school to get out in the paddock.
"My favourite part is probably cutting bunches and packing. I've only really started doing that since I was 14," Angus said.
"Generally you have to be more experienced to do the cutting. But we do it," Stuart (Jnr) said.
Both the boys see a long-term future in farming, with them both acknowledging that they'd like to "keep expanding it and hopefully pass the knowledge on to our kids one day".