Excitement is building for next month's Australian Banana Industry Congress, to be held at Royal Pines Resort on the Gold Coast from 22-24 May.
An amazing line-up of speakers and entertainers have been locked in to a comprehensive, grower-focused program, bringing an exceptional range of expertise, insight and motivation.
The dedicated Congress organising committee believes this year's two-day plenary line-up will be one of the best on record, offering a great cross-section of innovation and diversity, and providing growers with plenty of opportunity to take valuable learnings back to their farms.
As always, Congress will be a great chance for growers and other industry stakeholders to catch-up, socialise and celebrate our great industry and its continued vibrant future.
Here we've put together some of the major Congress highlights, including information on some of our great speakers and entertainers. You'll see it is a program not to be missed!
For complete information and registration go to www.bananacongress.org.au
OFF SITE TOURS
Two optional off-site tours have been included on the Congress program, to be held on the morning of Wednesday, May 22, prior to the official Congress opening that evening.
The two tours will be restricted in numbers, so it will be first in best dressed! They can be booked while registering for Congress online.
The two options are;
Tour 1 – Duranbah Trial Site –Tropical Fruit World – Husk Gin Distillery
Tour 2 – Visy pack house, Riviera boat factory, Rocky Point Mulching. (Tour kindly sponsored by Visy).
More details on each of the tour sites is available on the Congress website.
INNOVATION PANEL
Hear from four fellow banana growers trialing innovative farming practices during an Innovation Discussion Panel in the plenary program on Friday, 24 May.
This innovation panel includes;
• Peter Inderbitzin (Lakeland) bunch cableway system/composting
• Rob Zahra (Innisfail) High efficiency sediment basin
• Mark Nucifora (Innisfail) track bagging machine
• Matt Abbott (Innisfail) pivoting head slasher
BANANA WOMEN'S LUNCHEON
Have fun while networking and connecting by booking into the Banana Women's Network lunch at Congress on Thursday, 23 May.
The lunch will be held at Videre restaurant, inside the Royal Pines Resort, at the same time as the Congress lunch break, ensuring no-one misses out on plenary speaker sessions.
The cost is $65 and includes a two course meal and welcome drink on arrival.
Other popular functions:
• Welcome Reception – Wednesday, 22 May
• Banana Ball and Awards Ceremony – Friday, 24 May.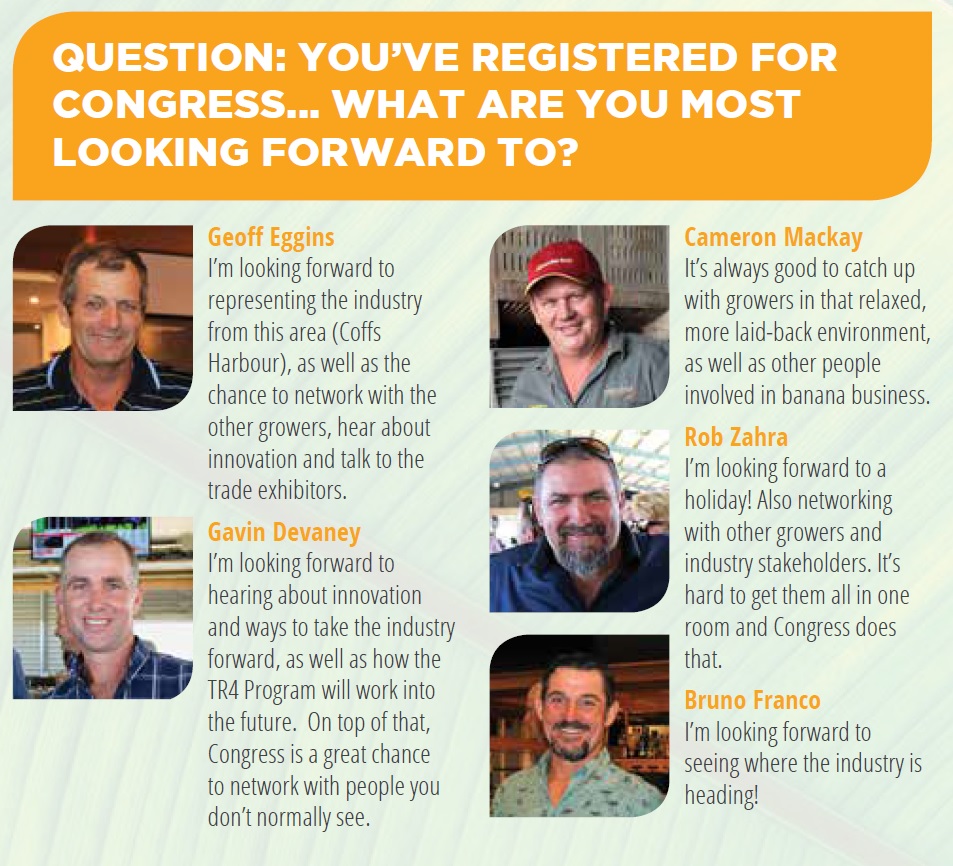 WE HAVE A HUGHESY!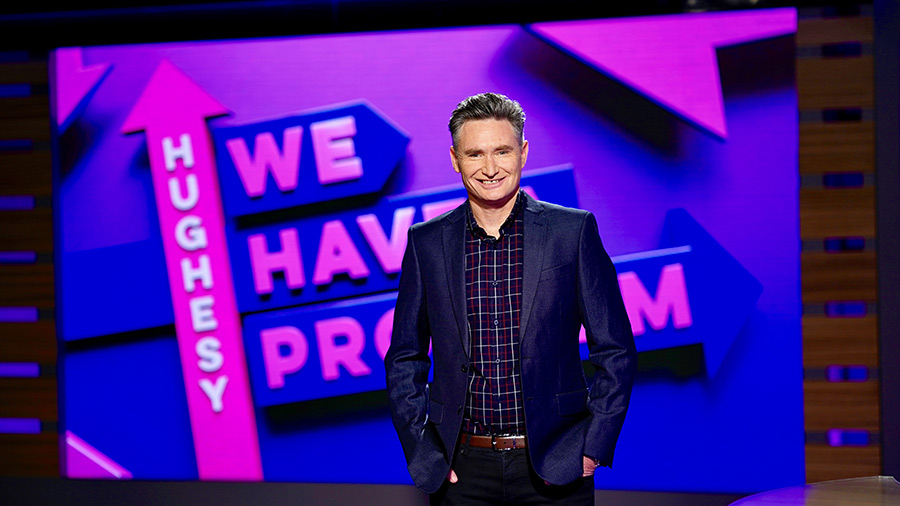 Known for his laconic humour and honesty, Dave Hughes is not only one of Australia's most loved comedians – he's also the kind of guy you'd happily invite over for a barbie.
A former abattoir worker, he's held a number of hosting roles on television and radio, most recently on HIT FM Drive and Network Ten's Hughsey We Have a Problem.
He's also spent time hosting The Project, AFL Football show Before the Game and weekly segments on Rove.
Dave returned to his first love – stand-up comedy – in 2014 and has been touring nationally and internationally since.
Away from work, Dave's a passionate Carlton fan who married his partner Holly in late 2006. They have three children – Dave says he wants a fourth because they're good for material but his wife says that's not a good enough reason.
We are very excited that Dave will be joining us as the special guest comedian at the Banana Ball on the evening of Friday, 24 May.