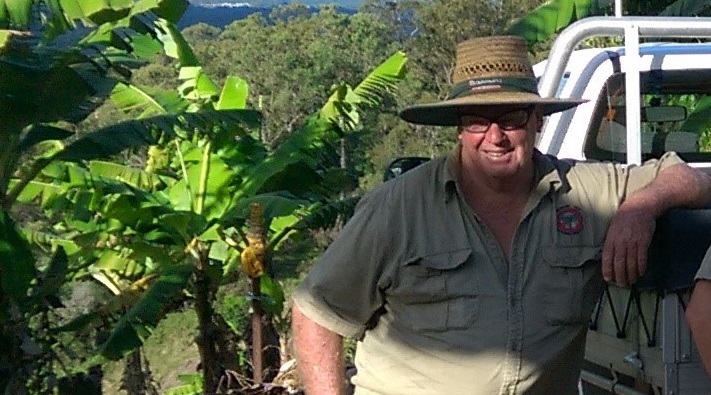 After more than three decades as a Bunchy Top inspector, much-loved character Tom Maher began his well-deserved retirement earlier this year.
Bunchy Top is a notoriously hard disease to detect, but despite losing one eye some 25 years ago, Mr Maher earned a reputation as a highly-skilled inspector and a valued member of the team.
"It really is difficult to spot in its earliest stage – (but it's) the time when it is so important to find and destroy any aphids before they spread the virus," National Banana Bunchy Top Project Manager David Peasley said.
"I don't know how he did it with only one eye, but he was a fantastic inspector in every way."
Mr Peasley described Mr Maher as a shy, likeable character who liked to stay close to his beloved Mt Chincogan (Chinny), near Mullumbimby.
That was until he saw the Ettamogah Pub on his way to do an inspection on Queensland's Sunshine Coast.
"I remember his face lighting up when he spotted his favourite cartoon in real life. From then on, he didn't mind straying from his 'Chinny'. In fact, he nearly bought out the Pub's gift shop every time we travelled north."
Mr Maher had his own way of getting the job done. He wore shorts and short-sleeved shirts – even in the toughest conditions. A few lantana scratches would never stop him from completing any task he was given.
Mr Peasley said Tom might be shy, but the team would miss his loud voice booming across the plantations.
"Go the West Tigers and all the best in retirement Tom," he added.