By Amy Spear
The first thing you notice when arriving at Jason Gentle's banana plantation, near Coffs Harbour in New South Wales, is just how steep the hill is.
The next is how much he loves it.
Jason is a fourth-generation grower who, with his mum Monica, invested in the Crossmaglen block in mid-2017.
When they started out, there was no sign of the bananas that had grown there in the past – the bush was so overgrown and steep, it was impossible to get machinery into some places, and hand-clearing was the only option.
Now, though, it's a different story.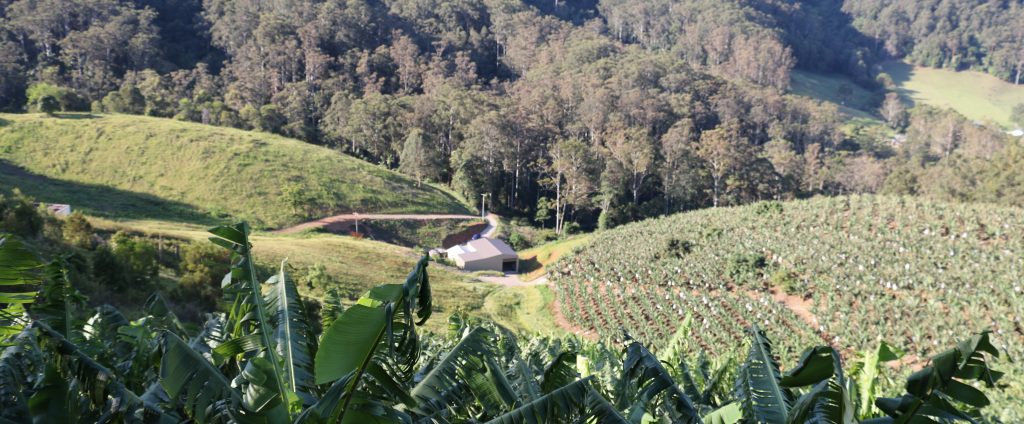 Eight acres of Cavendish and Ducasse line the slopes, with concrete roads allowing for easy access and leading to a brand new packing shed.
"The process has been extremely hard and it hasn't stopped yet," Jason said. "Mum always said if we could last the first three years we could do it." It's now been two and a half.
In addition to starting this plantation from scratch, Jason and Monica work on Monica's block at North Bonville. His father, Mick, and cousin Dom are also growers in the region, meaning he's had plenty of experience to draw on.
"I had no intention to grow bananas at first," he said. But the first day of Year 11 changed his mind.
"I went home and told my mum I was working for her – she was over the moon."
It wasn't long before the love of bananas crept in.
"It's the satisfaction of putting all that effort into growing something and seeing the end product," he explained.
A large part of the plantation is now onto its second cut, and there's been no trouble accessing markets for the produce.
At this point in time, they supply their fruit to Melbourne and Golden Dawn in Coffs Harbour.
Jason has plans to expand onto the remaining ridges, but is conscious of not getting too big, particularly when his business partner may have her own ideas.
"I don't know what mum's plans are at this stage – she may go part time or retire, and she's a very good worker!
"If you spent a day with us you would think we fight and swear a lot. But we never take it heart.
"It's also good as she does all the paper work," he added with a smile.
Though he's only in his early twenties, he's picked up plenty of 'tricks of the trade' during his time in the industry – the main one is the reason he's passionate about the impressive north-facing hill at the farm.
"In my second year working at the old place, we decided to put in some lady fingers," he said. "Dad had just got himself a northern slope. We planted bananas at the same time of year, but ours were down low and on a southerly slope. It was crazy to see how different the quality of fruit was and the amount of work involved. The output [on the northern slope] was greater and faster. That was the lightbulb moment."
While they may still have six months to go until they pass that magic three year mark, the future certainly looks promising for Monica and Jason.
"We do the majority of work ourselves. That's why we're so tired all the time," Jason laughed. But it's worth it for the quality produce they are consistently producing. And then there's that hill.
"This hill is incredible," he said. "I just love it. And it keeps you fit!"