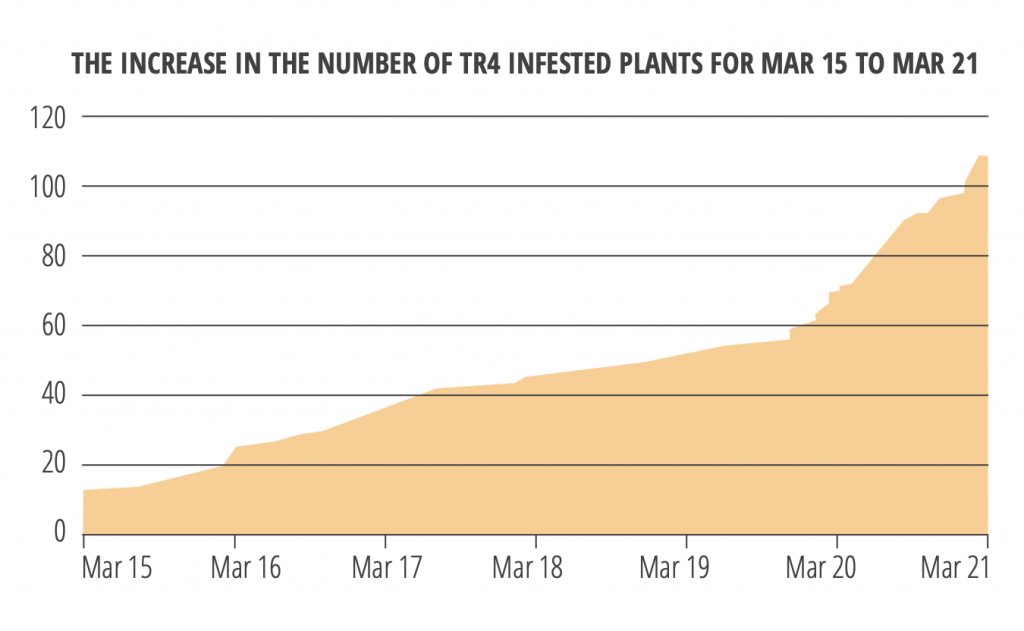 While there have been just five commercial banana farms confirmed with Panama disease tropical race 4 (TR4) since March 2015, the disease continues to spread in the Tully Valley. 
The number of plants confirmed with TR4, and the number of sites where these plants have been destroyed on infested farms (destruction sites), continues to increase and escalation of the disease remains a constant threat. 
As of 15 March, 2021, 109 plants had been confirmed with the disease and destroyed across all five infested farms detected since 2015. The sustained effort by industry, growers and government over the past five years has helped stem the rapid increase of the disease, however the threat of further spread always remains present and growers are reminded the best way to protect their livelihoods is by keeping their farms free of TR4.
For those growers who haven't already done so, now is the time to install on-farm biosecurity measures or review the procedures already in place to make sure they are still effective.
For further advice please ring ABCG or one of the industry extension officers: QLD – Shanara Vievers (07 4220 4149), Ingrid Jenkins (07 4220 4108) or Stewart Lindsay (07 4220 4120)