Jim Pekin, CEO
It's been six-and-a-half years since Far North Queensland had its first detection of Panama tropical race 4 (TR4) and, as at 31 July, it had been detected on four other FNQ farms. 
ABGC's Position ABGC's position remains the same as it was when the disease was first detected in the Tully Valley in February 2015 – to contain the disease as best as possible; to buy time for industry to put in place biosecurity measures and for research to hopefully provide some viable options. 
The ABGC Board continues to support a surveillance strategy and regulatory compliance, which includes rapid destruction of, and exclusion, from destruction zones. The longer this approach continues, the better protected the industry will be from TR4 spreading more rapidly. 
Obviously, this is not without its costs and the infested property owners are to be thanked for their dedication and the financial commitments they have made to contain the disease and protect the rest of industry.
The Cost Sharing Deed signed on 30 June 2020, between the ABGC and DAF, commits both industry levies and Biosecurity Queensland (BQ) resources to the TR4 Program until 30 June 2023, after which industry will lead the disease's management. BQ's Chief Biosecurity Officer has clarified that the current TR4 Program has a limited lifespan and will cease on 30 June 2023. However, a new industry-led program (currently being devised) will roll-out after this date.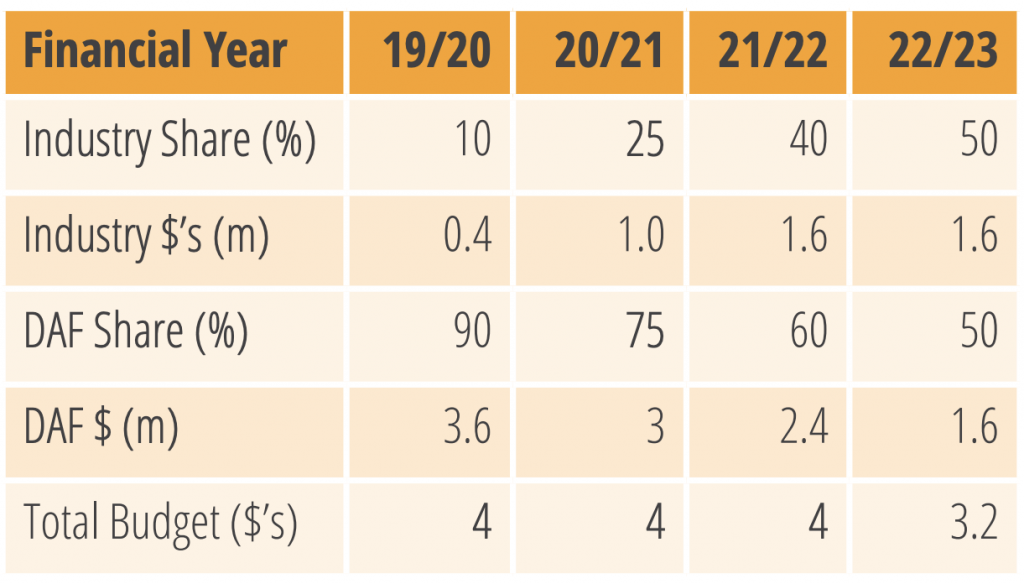 What the Program looks like will depend on funding and on where the disease has spread to by then. But, industry will need alternative dedicated funding to fund areas like regulatory and diagnostic services, under an industry-led scheme. 
At this stage, ABGC is planning to lead and run a Program in two years that has approximately half the current $4m/year spent. Scenarios Possible scenarios include: 
1. Status quo: gradual increase in TR4 positive farms in Tully 
2. Rapid escalation in Tully 
3. Detections in other FNQ districts 
Unfortunately, the third scenario above is always a possibility and therefore we should also plan for such an event. 
The advice to growers continues to be, be prepared for TR4 to spread – for example, by having biosecurity measures in place on your farm. As the scientists have advised from the start, Fusarium moves at a tortoise pace, unless man, animal or floodwaters help it along. We also know its spores survive decades in soil, so it could be found some time later in a patch that has not had bananas for quite a while. 
No one knows how it came to Tully. But we do know that people and machinery moved freely within the region before 2015. So our best advice is to do everything in your power to stop this disease from coming onto your farm, by implementing effective on-farm biosecurity practices.