Fancy a banana or two or maybe even a hand? Consumers are being encouraged to dig deep and throw a few extra of Australia's favourite supermarket fruit into the trolley to help out Australia's banana growers.
Like most farmers, banana growers nationally are currently enduring a time of unprecedented challenge, including low returns, escalating farm input costs, COVID consumer buying challenges, worker shortages and weather events.
Already battling through long periods of poor market prices, the arrival of COVID put an unprecedented level of pressure on almost every Australian banana business as labour was thrown into turmoil – and continues to impact operations – while severe weather events have also taken their toll.
More recently, global economic pressures have also dramatically driven up farm input costs, including escalating the price of fertiliser, chemicals, freight and fuel.
On top of this, a recent two week heatwave in Far North Queensland's growing region, caused a number of issues with fruit quality, with some growers forced to destroy worst affected parts of crops.
As it goes, banana growers have always been among the most resilient of farmers – especially when it comes to dealing with adversity like that dished out by Mother Nature.
But at the moment, our Aussie banana growers could do with a helping hand.
The industry has launched a social media campaign #nana4afarmer (pronounced nah-nah for a farma) to encourage consumers to keep buying bananas – and more of them.
Australian Banana Growers' Council chair Stephen Lowe said banana growers were the fabric of many regional and rural communities around Australia.
"We urge consumers to please continue to show your support and by a #nana4afarmer," Mr Lowe said.
"Just adding a couple extra bananas in your shopping basket, will make a considerable difference to our growers who continue to toil away to provide you with Australia's number one supermarket fruit."
The following is a link to one of the videos produced as part of the #nana4afarmer campaign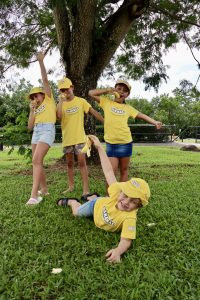 Banana farming kids from left to right Isadora Nucifora, Brandon Borsato, and Gabriella and Teodoro Nucifora, tuck into Australia's favourite supermarket fruit.