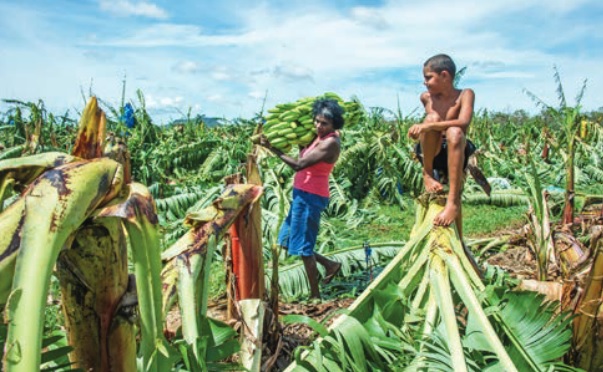 Disaster struck not once, but twice at Queensland's newly established and most northerly commercial banana farm.
Research scientist Jeff Daniells and farm general manager Ken Reid tell the story of Hope Vale Banana Farm's recovery.
Hope Vale Banana Farm had achieved several milestones by early 2014.
The indigenous community farm had planted its first bananas, established a packing shed and picked its first crop.
The operation was achieving important successes, including the creation of jobs in the community of about 1,000 residents located about 30 minutes drive north-west of Cooktown.
The banana farm was established in 2012 with support from the State and Federal governments, Hope Vale Aboriginal Shire Council, the Indigenous Land Corporation, Indigenous Business Australia and Dole Australia.
Dole provided tissue culture plantlets and business support.
But it was not long after the banana farm's first commercial crop that disaster struck.
About two months after its packing shed was officially opened, Tropical Cyclone Ita crossed the coast near Cooktown on April 11, 2014, flattening the banana crop before moving south.
The devastation was amongst the worst damage caused by Ita and news of the plantation's fate made headlines around Australia.
The clean-up was another achievement for the farm but the next cyclone season had more in store.
The second cyclone in just under a year, Tropical Cyclone Nathan, hit in March this year causing further damage.
In mid-April researcher Jeff Daniells from the Queensland Department of Agriculture and Fisheries briefly visited to assist with post-cyclone recovery recommendations and provide initial comments on TR4 biosecurity measures being undertaken.
Cyclone Nathan damage
Hope Vale Banana Farm battened down on two occasions in mid-March as cyclone Nathan meandered offshore before eventually making landfall to the north near Cape Flattery on March 20.
Wind speeds at the farm were estimated at up to 80 km per hour. About 70 per cent of bunched plants were blown over.
Leaf shredding from the wind was quite severe and later there were some distorted bunches which emerged as a result of damage sustained while still inside the pseudostem.
The damage from Nathan was not as severe as Ita.
No major synchronisation of bunching and harvest is expected because the remaining plants are at many different stages of plant development.
The 70 ha property currently grows 49 ha of Williams Cavendish bananas.
During the first two years of operation, contractors supported the indigenous workforce but now the 32 or so indigenous workers look after most aspects of farm work themselves.
Several staff are receiving training, including in the Certificate II in Horticulture offered by TAFE.
The rich red volcanic soils provide good drainage, and rainfall is supplemented with irrigation from three bores and a large farm dam with a capacity of 300 megalitres.
Annual rainfall in nearby Cooktown is about 1800 mm – about half that of Innisfail but with a more pronounced dry season.
Average temperatures in the cooler months for Cooktown are two to three degrees warmer than Innisfail contributing to much better plant growth during that period.
More importantly, the minimum temperatures are three to four degrees warmer, eliminating most fruit chill problems.
TR4 watch
With the find of the fungal disease TR4 in Tully in March, the Hope Vale farm has stepped up its on-farm biosecurity measures which include limiting access.
This includes closing off the road which once went through the property; erecting quarantine signage; and wash-down and chemical treatment of vehicles, equiment and footwear coming on to the property.
Other measures are to be put in place as recommendations are forthcoming.
New frontier
Since Cyclone Larry flattened the North Queensland banana industry in 2006 there have been mounting calls for geographic diversification so that supply to the marketplace can be better assured in the event of natural disasters.
With TR4 in North Queensland, there is even more reason to consider a spread of growing regions as a means to insure against the spread of the disease.
Typically, banana industries around the world have responded to Panama disease by moving to new sites with clean ground.
As Hope Vale's tough introduction to banana farming has shown, like other North Queensland locations, it can be vulnerable to cyclones.
However, the region should nevertheless be given consideration as having further potential for bananas because of its otherwise favourable climate.
There is also a nearby workforce in Cooktown where the population is about 2,500.
There is abundant land in the region with an estimated 2,000 hectares that could lend itself to most horticultural endeavours, as long as sufficient water can be sourced.
However, as Hope Vale continues its recovery and the banana industry focuses on TR4 containment, the top priority remains with putting in place appropriate biosecurity to safeguard the interests of individual farms and the overall industry.