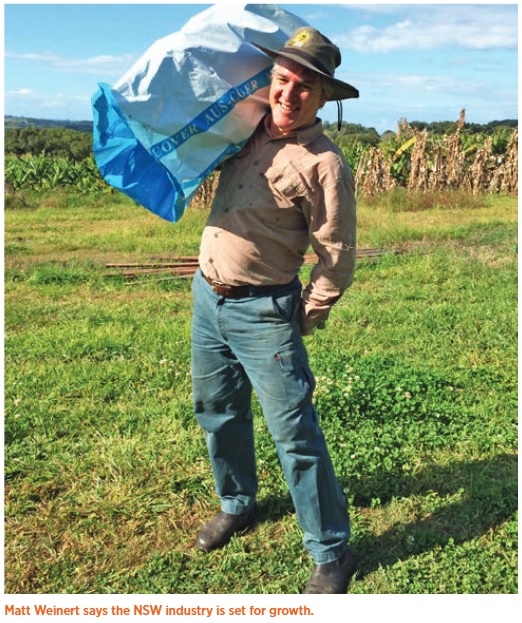 By Stephanie Dale
Almost a year after Banana Industry Development Officer (IDO) Matt Weinert set out to help reinvigorate the subtropical banana industry in New South Wales he couldn't be happier with the reception from local growers.
And he doesn't just mean the wonderful curries, pastas and bacon 'n egg brekkies he's enjoyed from the Tweed border to Macksville.
There's also been good weather "although we could have done with a little more rain leading into Spring", an industry survey that's humming along, positive results from trials of new varieties and nutrition workshops that have been well received.
However the crowning achievement of his tenure so far, Matt says, is the success of the banana weevil borer management trials.
In conjunction with integrated pest management service Bugs for Bugs, the Banana Plant Protection Program and the National Banana Development and Extension Program, Matt has been trialing lures for banana weevil.
"We've trialed lures with two growers one in Coffs Harbour and the other further north in Tullera," he said.
"The aim of the trials was to find out whether or not the traps and lures would be effective in managing the beetle.
"These trials are currently being replicated in North Queensland by new QDAF entomologist Donna Chambers.
"We couldn't be happier with the results."
"In fact, the trial outcomes were so successful, that the lures and traps are now, for the first time, available commercially in Australia.
"Growers no longer have to import them, which means they're cheaper to buy," said Matt.
"As well, other weevil borer treatments can create new issues, such as flaring mites. Lures and traps don't cause additional problems and this is a big plus.
"We now need growers to trial the lures and traps on their plantations, monitor how they compare with other treatments – and report their results back to us.
"With grower feedback, we can develop better trap design and per hectare lure rate.
"To perfect the strategy we need input, and in this way we hope to develop an effective, long term beetle management strategy."
The biggest challenge facing Matt at the moment is completing the industry survey.
"The aim of the survey is to get a comprehensive snapshot of the NSW banana industry," he said.
"We want to know where people are growing, who the growers are, what varieties they're planting, their yields, whether they're increasing or decreasing their plantings – if we can get a solid picture of the state of the industry at this point in time, we're in a position to meet current needs, identify and plan for industry challenges and opportunities, and assist growers to meet their goals for the future."
It's Matt's intention to speak to every banana grower from the Tweed border to Macksville for the survey. So far he's spoken to 60 – there are more than 200 to go.
"It's a massive job," he said. "It's something I do of an evening, at the end of the day's work.
"Even though it's a demanding task, I really enjoy talking to the growers individually – the conversations are insightful and incredibly valuable for the industry as a whole.
"The two important concerns among to be the banana beetle – it's a big issue in NSW – and the cost of production in relation to returns.
"Interestingly, about 30 per cent of the growers I have spoken to around Coffs/Woolgoolga/Nambucca are increasing their plantings and a range of varieties are being planted – these are great signs for the NSW industry.
"It's my aim to finish the surveys by the end of November – so if you're one of the 200-plus growers I haven't spoken to yet, feel free to call me!"
As Matt celebrates his first year in the subtropics with a toast to the land, life and industry he loves, he is already making plans for the year-to-come.
"I'll be building on the foundations of the work to date, especially with disease management trials and protocols and experiments with double bagging, as well as laying ground for new priorities and challenges," he said.
"I'm particularly looking forward to working with young growers to set up a young growers' group in the region.
"Young growers face specific challenges, not least of which is accessing land. One surprise I found from the survey is the number of young growers who are leasing their plantations.
"As well, I haven't yet connected as much as I'd like with Tweed growers and I'm looking forward to developing great working relationships there."
Matt is based at the NSW Government's Wollongbar Primary Industries Institute and travels throughout the NSW banana growing regions from the Tweed in the far north to south of Macksville and west past Lismore.
With 20,000-plus kilometres of travel under his belt so far, Matt Weinert still has a long way to go.
He said there's plenty of fuel in the tank and, "quite frankly, I couldn't be happier".
"Every time I drive south over the border and see Mt Warning, I know I'm home.
"I've loved every minute of my time here – so I guess this is a big thanks to the subtropical growers for welcoming me, for so enthusiastically embracing new ideas, for sharing their  experiences and for their willingness to work together to ensure the longevity of the industry.
"It's an exciting time to be involved in the NSW banana industry."
Matt said growers who'd like to complete their survey sooner rather than later were welcome to call him on 02 6626 1352 or 0438 644 136, or email him at [email protected]