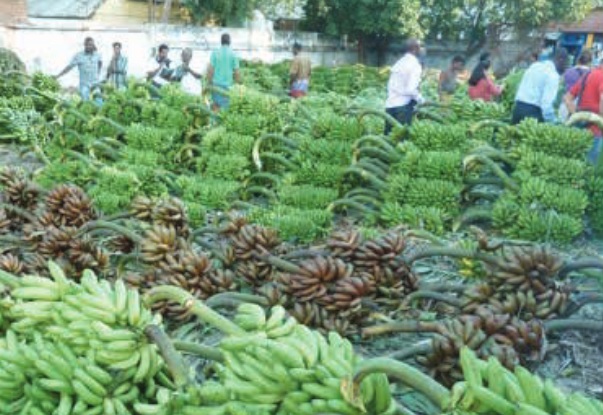 India is the world's largest banana producer and, although it grows more than 20 cultivars, it relies heavily on Cavendish writes Dr Thangavelu (Thanga) Raman.
India grows 28 million tonnes annually or 19 per cent of global production of bananas and plantains. The country has 800,000 hectares under banana production.
India is a recognised primary centre of diversity for banana with hundreds of indigenous cultivars and numerous wild species.
More than 20 cultivars are produced commercially in different parts of India.
They include Red Banana (AAA Red = Red Dacca), Rasthali (AAB Silk, = Sugar), Poovan (AAB Mysore, ~Pisang Ceylan), Ney Poovan (AB), Thella Chakkarakeli and Karpuravalli (ABB
Pisang Awak, = Ducasse), Nendran (French Plantain), Hill Banana (AAB Pome = Lady Finger) and Monthan (ABB related to the cooking banana Bluggoe).
However, the Indian banana trade mainly depends on Cavendish cultivars going by various names in different regions including Basrai, Robusta, Harichal, Grande Naine, Shrimanthi,
Bhusaval and Pedda Pacha Arati.
The Cavendish cultivars occupy 52 per cent of the total area under banana cultivation and contribute 64 per cent of the total production.
Banana exports
The state of Tamil Nadu lies in the south easternmost part of the Indian Peninsula. Its most important banana growing district is Theni which is situated about 10° N, about the same distance from the equator as the Torres Strait.
The average maximum monthly temperatures range from about 29-34°C and minimums from 20-25°C. Average annual rainfall is about 830 mm.
Bananas are mostly grown on medium-to heavy-textured red soils of moderate to high permeability with pH ranging from 6.5 to 8.5. A range of fertilisers plus farmyard manures are applied with typical total rates being 380 N: 150 P: 340 K in kg/ha/crop.
Crop density is high at 2,900 plants per hectare and so is yield, averaging between 75 to 90 tonnes per hectare.
The Theni district on average exports 24,000 tonnes annually of Grande Naine to countries in the Persian Gulf. This represents about 45 per cent of India's banana exports.