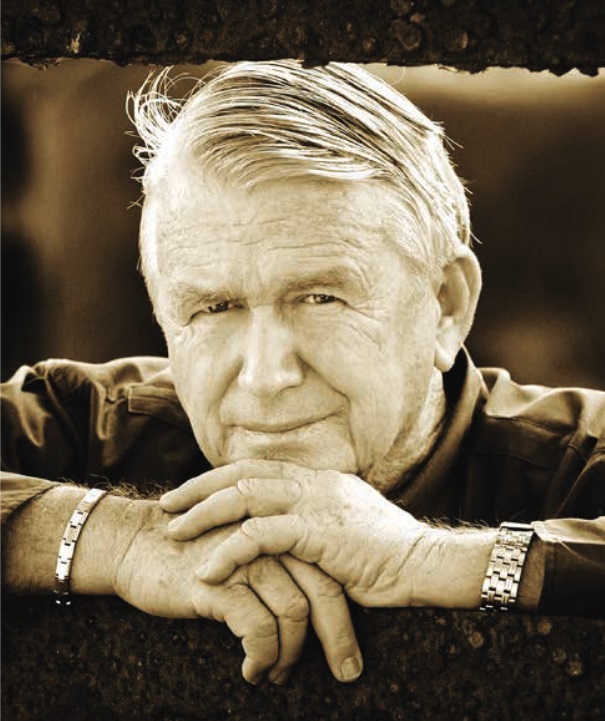 John MacKay, one of the Australian banana industry's outstanding pioneers and leaders, passed away at his Wongaling Beach home on December 23 aged 79.
His family provided this tribute.
For most North Queenslanders, the name MacKay is synonymous with bananas, something richly deserved given humble beginnings.
Growing bananas in virgin scrub on a six acre lease at North Mission Beach with such basic implements as an axe mattock and watering cans, Stan MacKay and his two sons, John and Robert, laid the foundations for today's $600 million Australian Banana industry, the majority generated in the Tully region.
Born in 1936, from an early age John helped his father after school and on weekends, imbibing a work ethic that was to be a fundamental part of his identity for the rest of his life.
A favourite saying of his was "the harder you work, the luckier you get".
When he was fifteen, John left school to join his father on the farm. The following year, in 1953, they moved to a new lease of 11 acres, Bill Henry's, on the southern side of the Tully River, and in 1954, bought the first family farm, 90 acres at Carmoo.
By the end of the fifties, S J Mackay and Sons were the largest producers of bananas in Australia, a position that was consolidated and expanded when the third generation of MacKay sons joined the team.
Mackay Estates today spans some 3,600 hectares and incorporates sugar cane, papaya and cattle production as well as bananas and is the product of John MacKay's vision and philosophy, as much as it is the outcome of hard work and a flair for innovation in the face of set-backs and challenges.
Growing up in that first home on Henry Street, with Robert and their younger sisters Lorraine and Jenny, John absorbed the values of this loving, happy family.
There were many family holidays back to the Nambour aunts and cousins, there was endless socialising with the other families on their very friendly street, and there was work – hard work that John thrived on.
Besides working alongside his father, John took on an extra three acres to cultivate with bananas, having his eye on a brand new Mark One Zephyr, the first of the many classy cars he was to own, and marking the beginning of a lifelong passion for driving.
But the daily reality was working on the farm, wielding the cross-cut saw to the unforgiving scrub, ending their long days with bleeding noses from the stinging nettle trees.
In those early days, from April to October, they would start work at 2 o'clock on Sunday mornings to have the fruit ready for market in time for the Tuesday fruit train.
The first timber cases were made under the house on Henry Street, a laborious business until a case-making machine was designed, and much later, of course, the cardboard cartons that Stan introduced in 1964 which would revolutionise the industry.
In 1956, the 16 acres under plant were completely razed to the ground by their first cyclone, and this proved to be a significant event in other ways as well.
John and Robert took jobs at Dickenson's sawmill while their father began to rebuild the farm, joining him after work and at weekends.
A key decision was made to pool the family's money, and what the boys observed during their time at the mill strengthened and embedded the philosophy that would underpin the enterprise far into the future – to work as a team and not bludge on your mates, to always pull your own weight.
Natural disasters aside, there were always other problems to deal with. A major hurdle was the status of the young banana industry itself.
Cane was king: the banks were happy to lend these farmers money, but there was no such guarantee for banana growers in those days.
Added to that constant uncertainty were the problems that would arise which demanded innovative solutions if the enterprise was to remain viable; root rot, leaf spot – how to control these diseases, what chemicals to apply.
His grandfather George's experience with arsenic poisoning was a lesson in caution and respect as far as chemicals were concerned that John never forgot.
This is not to imply, however, that life on the farm was all heavy going – far from it.
John had a distinct playful streak that would seek its outlet well into his old age.
From the beginning it was any heavy machinery that moved.
The first tractor, a Kero Fordson bought for the Carmoo property, led to the first dozer and other 'toys', as he would describe them.
He took special delight in driving them, working on them, bringing the best out of them.
The Cats on the land, the cars on the road – taking the long way home for the sheer pleasure of it – and then there were the boats.
In their late teens the boys bought the Anita 2, taking their friends out water skiing on the Tully River, and fishing out on the reef.
This first boat fuelled a life-long passion, and was followed by many other boats, each weighted with the stories and memories they accrued and interwoven with John's other great love – his family.
Together they ventured out on his beloved ocean, took picnics on Portaboi Island with friends.
He persuaded his sons, Gavin and Barrie, of the thrills to be had, pointing the boats to even winning several future world championships in waterski racing.
Working with his father as a young man may have kept him from the footy field with his peers, but he never saw that as a loss.
Instead, it became an opportunity – a chance to help realise his father's goals, to buy his first car, the first boat, and to have a future to offer to the girl who would become his wife.
It was 1959 and Flori Rigato, the daughter of a leading cane family, had accompanied her girlfriends to the Mardi out for a breath of fresh air.
Leaning against the glass front of the cafe, there was something about her that moved the young John MacKay to approach her and ask her if she would like a drink of orange juice.
She accepted gladly, and the night took on a special glow for both of them.
Their friendship blossomed and they were married on December 8, 1962.
Flori was the love of his life, whom he fully entrusted with the family finances, stipulating only that she be ready to cover the next holiday, the next overseas trip.
This she did, even if it meant, as it did in the early days of their marriage, working on the farm herself – Hong Kong was worth it.
Later the trips overseas and around Australia were always accompanied by their sons – Gavin, born in 1964, and Barrie, born in 1966 – expanding their world views and creating indelible memories.
A loving wife, two sons, a pivotal part of a flourishing family business – what more could a man want? The daughters John Mackay longed for never did materialise, but he was a patient man.
For his sons, he was a role model in more ways than one: Barrie and Gavin were keen to be family men as well, and for 15 years they kept coming, six girls who were the apples of his eye. To the end, his eyes would light up the moment one of them walked into the room.
As a grandfather, he was unsparing in his love and endlessly playful, creating memories that they will cherish forever.
Always decisive, always a hard worker with a mindset that took advantage of the next opportunity, calculating the risks with a sure intelligence, collaborating with the family team even while he wanted to call the tune; proud of what he owned, and taking great care in looking after his possessions, John MacKay also had the wisdom to know when to take his hands off the reins, when to hand the wheel to the next generation.
This happened literally when, from one moment to the next, his hands lost their firm grip, the boat hit the reef, and he turned the steering to his boys from then on.
He loved working alongside his sons and his nephews, but he knew when the time had come to give them their turn, grant them their opportunity to take the business to the next level, and was gracious in his withdrawal.
But even in semi-retirement, when he spent weekends on his new acreage at Yungaburra, renovating and landscaping, he would always travel back to Tully on Mondays, the day that had for so long marked the beginning of his working week was still exactly that, and for as long as he was physically able, John remained an active presence on the farm.
There were signs of the disease long before Parkinsons was finally diagnosed, some 15 years ago, but this did not stop John from continuing to participate the way he knew best.
Up until six months before his passing, he still enjoyed going out on Aquamac, electric fishing rod in hand, the catch of the day still not eluding him.
True to form, John did volunteer work, contributing his dozer to the Tully Nursing Home, and to the Council, where once he served both as a councillor and Deputy Mayor for two terms, from 1985 to 1991.
In what was to be the last week of his life, he even attended a family board meeting, on the occasion of his 79th birthday.
John MacKay is survived by wife Flori, whose unwavering care and devotion eased his final years; sons and partners Gavin and Barrie and their wives Lidia and Nadia; and his granddaughters –Hannah, Sophie and Charlotte and Jenna, Tayla, and Nicola MacKay.