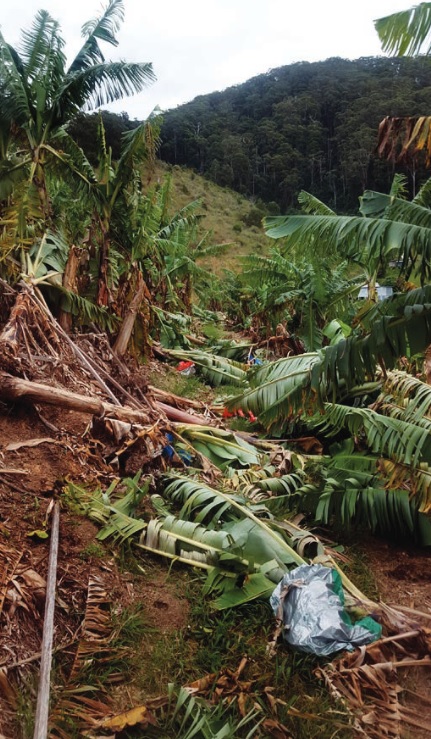 Growers in New South Wales suffered severe losses from storm damage brought about by the East Coast Low early this month. Paula Doran reports.
Return to full production could take a minimum of 18 months according to long-time growers, following a storm they say was more like a cyclone.
Department of Primary Industries (DPI) industry development officer, Matt Weinert spoke to around 30 growers from the Queensland border to Macksville who were recovering from
the battering by the same storm that wreaked havoc on Sydney shorelines and lead the headlines for weeks.
In some areas the storm brought up to 400 millimeters rain with 100 kilometre per hour winds.
It came on the back of a dry autumn, low market costs for fruit, and will leave growers battling to recover in the slow growing winter months.
"Overall damage to Cavendish production was in the region of 30 to 50 per cent in the Coffs region, with north east facing blocks and blocks higher up the slopes suffering the most damage," Mr Weinert said.
"Damage in Lady Fingers was less, at an estimated 10 to 20 per cent. The majority of Lady Finger plantings in the Coffs region are much younger than the Cavendish plantings, and this, along with the plants being more robust, may account for this result."
The majority of Ducasse growers estimate damage of around 20 per cent, with one Ducasse grower quoting financial losses of $30,000.
"There has been considerable erosion damage on farms and particularly to farm roads. This is making it hard for growers to access their plantings to clean up and salvage bunches," Mr Weinert said.
"The poor quality of the roads also means bunches will get damaged in future harvests."
He said in addition to lost bunches, many banana plants had 'rolled' out of the ground taking the follower sucker with them.
"This sucker will need to be replanted which means a lag time of two to three years until growers can return to full production.
"Several badly affected growers are also in the area to be resumed for the Coffs bypass and will probably not replant severely damaged areas. Incomes for these growers will be reduced even more."
Mr Weinert predicted the storm damage would have a flow-on effect for the next 12 months at least, as the plants have significant leaf damage.
"We're also heading into the cooler months so those leaves will not get replaced until spring, which will increase recovery time even further."
Clean up underway 
Clean up efforts are now well underway.
"There is a huge amount of very physical work required to chop up the fallen plants plus a lot of work to salvage bags and props from the ground."
Coffs Harbour Banana Grower's Association president Wally Gately said the storm was savage.
"It came down more like a cyclone. We had a similar blow like this three years ago, but this one really did some severe damage. It came right through the area with torrential rain, and then it changed direction. The damage was very widespread."
The long-time banana grower said those in the industry were going through tough times and were finding it difficult to compete with northern Queensland growers.
"Our recovery time down here is longer. We can't bounce back perhaps as quick as the growers in the north."
Mr Gately said morale was low amongst growers.
"We've been struggling with the prices for the last 18 months… there's a fair bit of disappointment with this storm. It's getting to the point where you have to have an alternative crop to fall back on.  Many of the banana growers have now planted blueberries so they're not so reliant on bananas.
"There would certainly be a few growers who are reassessing their options after this," Mr Gately said.
Grower Paul Shoker agreed.
"There are growers who haven't recovered since Oswald in 2013. Now they are wondering if they can continue. Certainly we will see some Cavendish growers leave the industry."
Mr Shoker said it would be important in coming weeks to let people know known bananas coming out of the area would not be premium, but still worth the investment from buyers.
"Most growers will be looking to salvage what they've got. We need to prepare for potential quality issues, and allow the market to have time to consider this. We need a strong message to say that while it's not premium quality fruit, it is still tasty, and well worth buying."