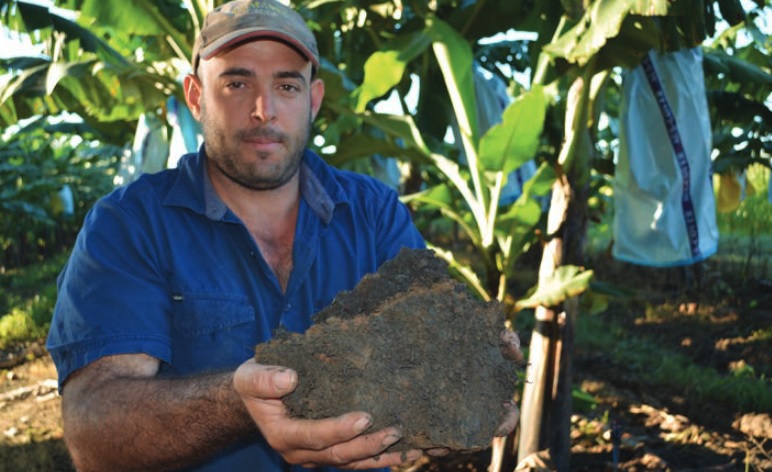 Mick Russo, 34, is a third generation banana grower and a first generation biological farmer.
The Boogan banana grower is dedicated to using the knowledge he gleaned from international biological leaders to bring out the best in his soil. Paula Doran reports.
What started as an interest in using composting teas has developed into tangible benefits for the former automotive electrician, whose job it was to manage fertigation and irrigation when returning to the family business.
Spurred on by Federal Government Reef Rescue funding, and innovation grants via consultants, Terrain Natural Resource Management, Michael has quickly taken the lead in the region in terms of working with the soil for the best of the family's banana production.
The turning point from conventional soil management to biological he says, came from studying with a group of Mexican experts four years ago, brought to Australia by Kym Kruze from Regenag, a well respected Australian consultant.
"Those initial studies where I was interested in unlocking what we had in the soil really took off after I went with a group of other Australian growers to study in Mexico, Ecuador and Costa Rica.
"It was a real eye opener seeing how the farmers we visited used biological soil management to progress their farming interests. In Mexico the farmers were struggling financially and were under extreme pressure from agri-chemical companies.
"But those who weren't afraid of change were able to minimise inputs and bring the cost of production down in a way healthy for the soil and healthy for the environment," he says. "What I saw in South America was a complete closed loop where farmers were able to nurture their farms entirely from the resources they had on farm and in nature itself.
"After that trip I came home and really focussed on what we could do here. I took one step at a time, using trials to see what worked."
Part of the transition to biological farming was the focus on compost, using bananas, chicken manure and bagasse (waste from the sugar mills).
Mick can see a good response from the banana trees when compost is applied.
"What we're doing is creating a home out there for the natural biology. In all the trials I do I assess how we can change the former farming systems relying heavily on chemical input, to a system more conscious of soil health. It's not something I can completely change immediately. Some things I can do straight away, other improvements will take time."
Mick's theory is healthy soil means healthy trees.
He says if we want to be sustainable farmers we need to move in the direction of biological farming, reducing the reliability on heavy fertiliser applications and chemicals to achieve profitable yields.
Michael Russo will be one of the speaker's at the National Biological Farming Conference in Cairns (October 28-30.)