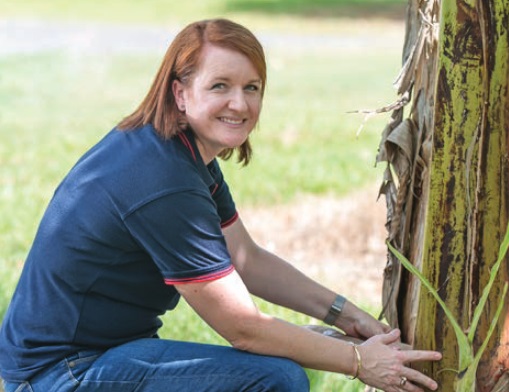 Australia's and Africa's Panama disease experts recently combined forces for the 'Australia-Africa Plant Biosecurity Partnership Workshop' in Tanzania, as part of ongoing global efforts to better manage the industry's 'fungal pariah'.
Panama Disease tropical race 4 (caused by a strain of the fungus Fusarium oxysporum f. sp. cubense) cannot be eradicated by the application of fungicides or other treatments and can lead to widespread loss of banana plants.
The Tanzania workshop provided a great opportunity for Panama experts to share their knowledge and hone industry biosecurity skills.
Disease management and diagnostics were top of the agenda during the twelve-day event.
As part of the workshop, Queensland's Panama Tropical Race 4 (TR4) Program leader, Rebecca Sapuppo, facilitated a session on the management of Panama disease.
"In Australia, Panama disease TR4 was identified and contained to one property in the Tully area on March 3, 2015.
It is unknown how the disease occurred in Tully, and given the pathogen can lay dormant in the soil for almost 40 years, monitoring its spread is particularly difficult.
"Biosecurity Queensland works tirelessly to contain Panama disease tropical race 4, and our latest efforts are of significant interest to the African industry.
"Through knowledge sharing and capacity building, we can help to minimise the spread of Panama disease tropical race 4, thus limiting the risk of future outbreaks and increasing the likelihood of identifying effective control techniques," said Ms Sapuppo.
During her presentation, Ms Sapuppo discussed farm biosecurity protocols, community engagement and awareness campaigns, operating procedures for farm workers and farm managers, and laboratory diagnostics in the identification of Panama disease TR4.
A Fusarium laboratory workshop was held at the University of Pretoria in South Africa and was presented by internationally-recognised Panama disease researchers.
The workshop was attended by TR4 Program Senior Plant Pathologist, Wayne O'Neill.
Mr O'Neill is a member of the Program's diagnostics team, a small multidisciplinary group dedicated to the identification of Panama disease in banana plants.
"The workshop was very practical with a lot of time spent in the laboratory conducting a variety of Fusarium identification techniques.
There was also a suite of lectures on species concepts, phylogenetics, population genetics and genomics," said Mr O'Neill.
Following the Fusarium workshop, Mr O'Neill visited Dr Altus Viljoen's laboratory, Stellenbosch University.
Dr Viljoen is a world leader in Panama disease research who visited Queensland in 2015 to provide advice on our disease incursion.
"I had the opportunity to discuss the new quality-management system implemented by the Panama TR4 Program diagnostics team which, we believe, has set a new standard for  Panama disease diagnostics," Mr O'Neill added.
Mr O'Neill will soon conduct Fusarium identification training in Australia with the diagnostic team to further strengthen the skills of the Panama TR4 Program.
The Australia-Africa Plant Biosecurity Partnership is led by Australia's Plant Biosecurity Cooperative Research Centre and is funded by the Australian International Food Security Research Centre within the Australian Centre for International Agricultural Research.
The Fusarium Laboratory Workshop will be hosted by the Forestry and Agricultural Biotechnology Institute (FABI), and is being organised by Prof John F Leslie from Kansas State University. If you suspect Panama disease in your plants, report it immediately to Biosecurity Queensland on 13 25 23.