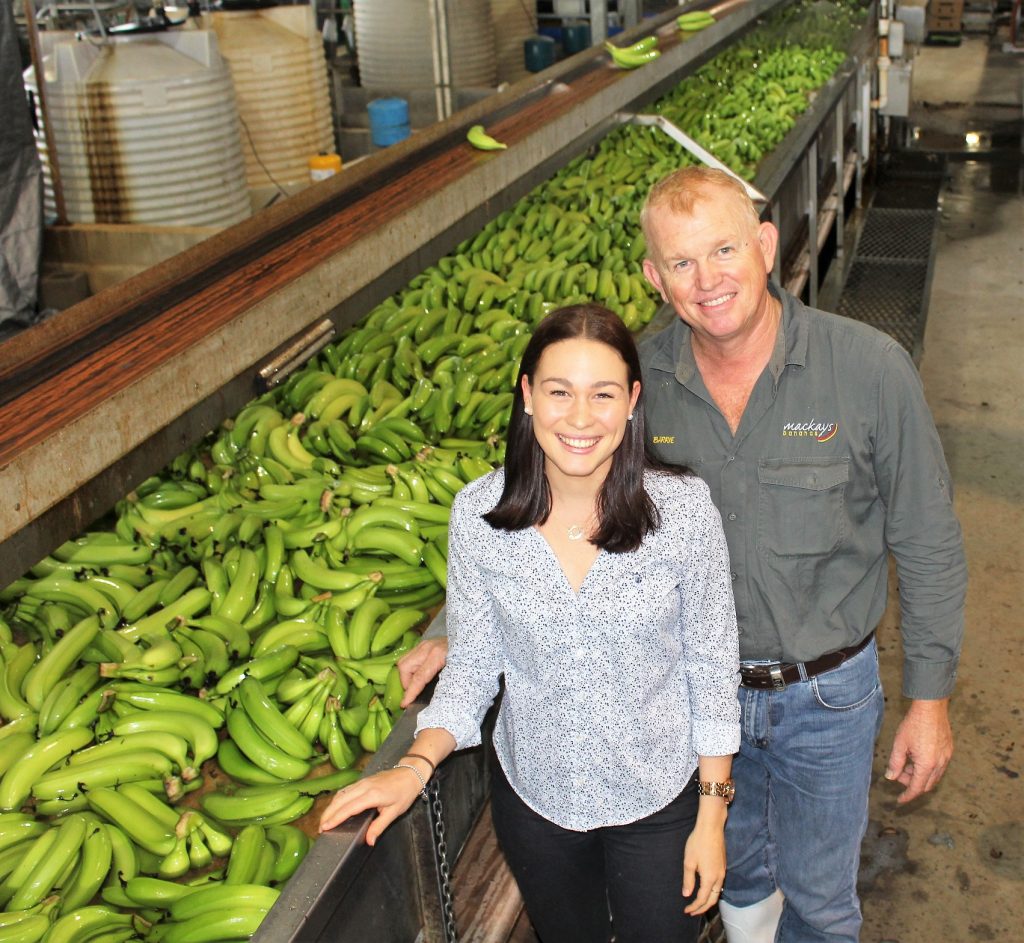 A long-held passion for the banana industry saw University of Queensland student Nicola MacKay named the 2018 recipient of the Mort Johnston Scholarship.
The Australian Banana Growers' Council has congratulated Ms MacKay, 20, on her success in receiving the scholarship, which was created in honour of an industry great.
Mort Johnston, who passed away in 2006, was widely regarded as a great innovator and a strong advocate for growers working together to better the banana industry. He gave up his time to serve on a number of committees, as well as the Tully Co-Op.
The scholarship provides valuable work experience on a commercial banana farm, as well as financial assistance of $5000.
Nicola MacKay, a Bachelor of Business Management and Science student, applied as she thought it would be a good opportunity to further her knowledge in an industry close to her heart.
"Growing up I've always loved working on the banana farm, I've always loved coming home during the holidays. It's always been a passion of mine, the bananas and the banana industry," said Ms MacKay, who is majoring in Plant Science and Economics.
"And, I suppose when Panama TR4 hit our Tully region, I felt like it hit quite close to home.
"I think that's where the turning point was, where I thought, yes, I really would like to work in the banana industry."
Ms MacKay comes from the largest and one of the most-respected banana farming families in Australia.
It was a desire to learn more about banana research and the future of the industry that lead her to the University of Queensland where, on top of her studies, she works as a casual research assistant under Professor Elizabeth Aitken. Ms MacKay has also undertaken work experience with Scientific Advisory Services.
"I was really excited when I found out I was the successful applicant for this scholarship," she said. "I went to dad [Barrie MacKay] and said 'I've been awarded the scholarship!' and he was really happy too. He always tells me I can do whatever I want, but I think he is secretly happy that I do want to work in the banana industry."
Paul Johnston, son of the scholarship's namesake, said that while the MacKay name was synonymous with bananas in North Queensland, he had no doubt Nicola would do the industry proud in her own right.
"Her family's background, her degree and dedication – as well as the experience the Mort Johnson scholarship will provide – should set her up for an exciting future in horticulture," he said.
"My father was passionate about the banana industry. It is a passion I inherited, and I know just how valuable a chance like this can be for someone starting out.
"If we can help people like Nicola to begin their careers, and keep building their love of the industry, we can be confident the future is in safe hands."
Head of The University of Queensland's School of Agriculture and Food Sciences, Professor Neal Menzies, congratulated Nicola and thanked the Australian Banana Growers' Council for supporting potential future industry leaders through this scholarship.
"Nicola is a deserving, hard-working and high-achieving student, and we hope this opportunity will allow her to contribute to the Australian banana industry," Professor Menzies said.
The scholarship was established in 2016 and is maintained by an annual donation from the ABGC.