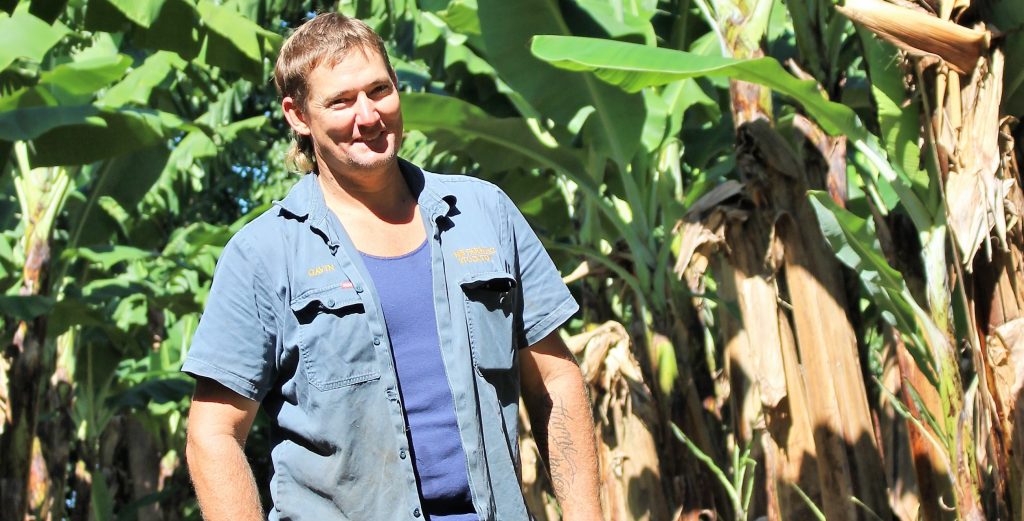 Many Australian banana growers work hard to protect the environment year in, year out—after all, it's their home as well as their livelihood. 
But with 2018 declared the International Year of the Reef, what better chance to recognise the Far North Queensland banana growers striving to preserve the natural icon on their doorstep: the Great Barrier Reef. 
In this edition of Australian Bananas, meet the man described as a walking, talking billboard for reef protection. Amy Spear reports. 
Gavin Eilers grew up on the rivers and reefs of Far North Queensland.
The banana grower of 20 years has seen plenty of change throughout his life, but his message is simple.
If you think it's too late to save the Great Barrier Reef, you're joking.
"It's never too late. We just need some people to change and it's undeniably beneficial," he said.
Gavin has operated his Wangan farm, in the Wet Tropics catchment, for more than 10 years.
Part of the LMB Farming Group, he has about 160 acres under banana production.
"I'm in quite a sensitive spot," he explained.
"The property is bordered by the South Johnstone river, so I feel obligated to do the right thing to begin with.
"But more than that, I just think that once best practice is set up, it pays for itself. Doing the right thing is no more costly than the wrong thing. And it's more beneficial in the long run."
Gavin points to native trees planted to help stabilize his riverbanks to illustrate this.
"In years to come, they'll make a big wind break for the farm. We'll get the money back from trees and labour in no time by packing more fruit."
Gavin's appreciation for environmental protection—including nutrient, sediment and pesticide management—was developed during his time as manager of organic banana operations at Grima and Co.
In his current role, he's been able to hone that dedication, pursing innovative farming practices and sharing his knowledge within LMB and further afield.
"I try to spread the message and you've got to practice what you preach," he said.
"If you're going to tell people to do something a certain way to achieve a certain benefit—at least I can show that. It's not on a piece of paper, it actually works."
Over the past eight years, Gavin has been awarded two reef grants to automate his fertigation system and put in a sediment pond.
He now sits on the technical advisory panel for the ABGC's Reef Grants committee and has spent countless hours and thousands of dollars of his own money to deliver improved water quality outcomes.
Gavin has worked to stabilise headlands, laser-level plantations to a minimum grade of 0.4 per cent and install flat spoon drains.
He's a big believer in grassed inter-rows to limit soil erosion, run-off and weed growth.
"I can't understand why you wouldn't do this," he said. "It makes a massive difference."
Trash-blanketing acts as a natural compost on farm and has allowed for a massive reduction in chemical application.
In 2012, Gavin made the decision to stop using bagging machines, opting instead to bag by hand to reduce soil movement and run off.
The majority of the run off that does come off the property is filtered through a large sediment pond/ silt trap.
Gavin also practices co-ordinated nurse suckering to ensure more even crops, reducing time spent in paddocks and instances of soil movement.
"You just can't debate the difference best practice makes," he said.
"When you notice how much cleaner the run off is, there is simply no comparison."
Named a Reef Guardian Farmer in 2016, Gavin said that paddock layout is the key for any grower looking to embark on a similar journey.
"Your paddock needs to be mapped properly—your high points and low points—so you can have a plan on where you should put a drain or where there should be a headland built up.
"That's where it begins."
THE NOT-TOO-HARD BASKET
Gavin's simple tips to help with sediment run-off.
Put rock or sand on top of your built-up headlands to help create a seal in the wet.
Use low-impact vehicles to go to-and-from banana paddocks.
If it's wet, keep heavy machinery away unless absolutely necessary.
Rotate your picking rows each week.