With thanks to Foodbank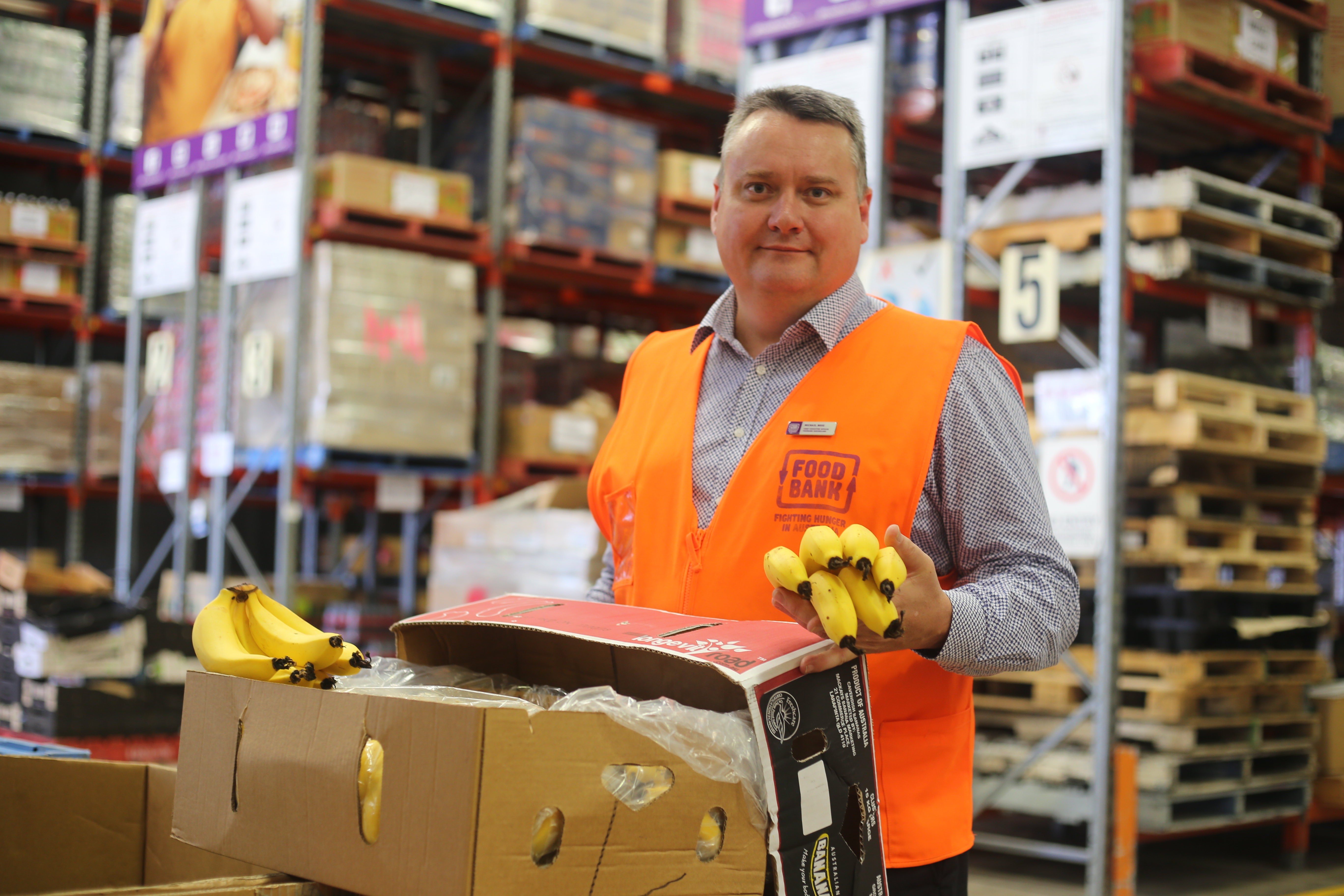 26%
The number of food relief recipients in Australia under the age of 19.
710,000
The number of Australians Foodbank provides relief to every month.
227,300kg
The amount of bananas donated since January 2018.
It can be easy to take for granted access to tasty, nutritious food – particularly when you work in the banana industry.
But according to the Foodbank Hunger Report 2018 – an annual snapshot into the hidden and increasing issue of food insecurity in Australia – more than four million Australians have experienced food insecurity in the last 12 months. This means they struggle or don't have the means to be able to put enough food on their table.
With more than 710,000 Australians now receiving food relief from Foodbank's charity partners each month, it is vital for Australia's largest hunger relief organisation to be innovative and work proactively with the Australian food and grocery industry.
Last year alone, Foodbank distributed more than 37 million kilos of food and groceries to their network of more than 2,600 front line charities and 1,750 school breakfast programs around the country, including 40% to regional and remote communities.
Already, many Australian banana growers support Foodbank's work, either donating directly or via their various wholesalers and retailers.
"We are incredibly appreciative of the industry support we receive from suppliers, ripening organisations and transport providers," said National Program Manager, Jacqui Payne.
Currently in QLD and NSW, Foodbank has active Banana sourcing programs.
"Bananas are a versatile and much-loved fruit, so we're really excited to be talking with the banana industry and supply chain about how we can ensure vulnerable people all over the country have access to a sustainable and regular supply of them."
To assist in every state, Foodbank is aiming to establish a National Banana Program to increase the availability, consistency and volumes for distributing to the frontline charities and school programs via state based warehouse operations.
"If it's too bent, too straight, too big or too small – it's perfect in our eyes," Ms Payne said.
Daniel Mackay, of Mackays Bananas, said it was a great way to donate to numerous charities at once.
"We're involved for a few reasons – firstly, we don't want to waste any food if possible. On top of that, being involved with something like supplying breakfast to kids is a great way to introduce bananas as one of their first staple fruits.
"At the end of the day, it's about helping people."
He added: "Foodbank can work with whatever means of supplying you have – cardboard, plastic, cases or boxes, you name it!"
Foodbank is now seeking support and providers to help secure a regular, national supply of bananas to guarantee more families and communities can enjoy the nutritious snack.
"If you want to have a chat and understand more about how we can engage and support those in your supply area or state, we would love to hear from you," Ms Payne said.
• Jacqui Payne and Michael Davidson (General Manager, National Supply Chain) – will be travelling to FNQ in 2019. If you're interested in catching up with them to find out how you could also get involved, they would love to hear from you.
Growers across the country – big or small – are encouraged to reach out and discuss the various ways they can be involved.
Jacqui Payne
M: 0401 420 713
E: jacqui@foodbank.org.au
Michael Davidson
M: 0400 724 613
E: michael@foodbank.org.au