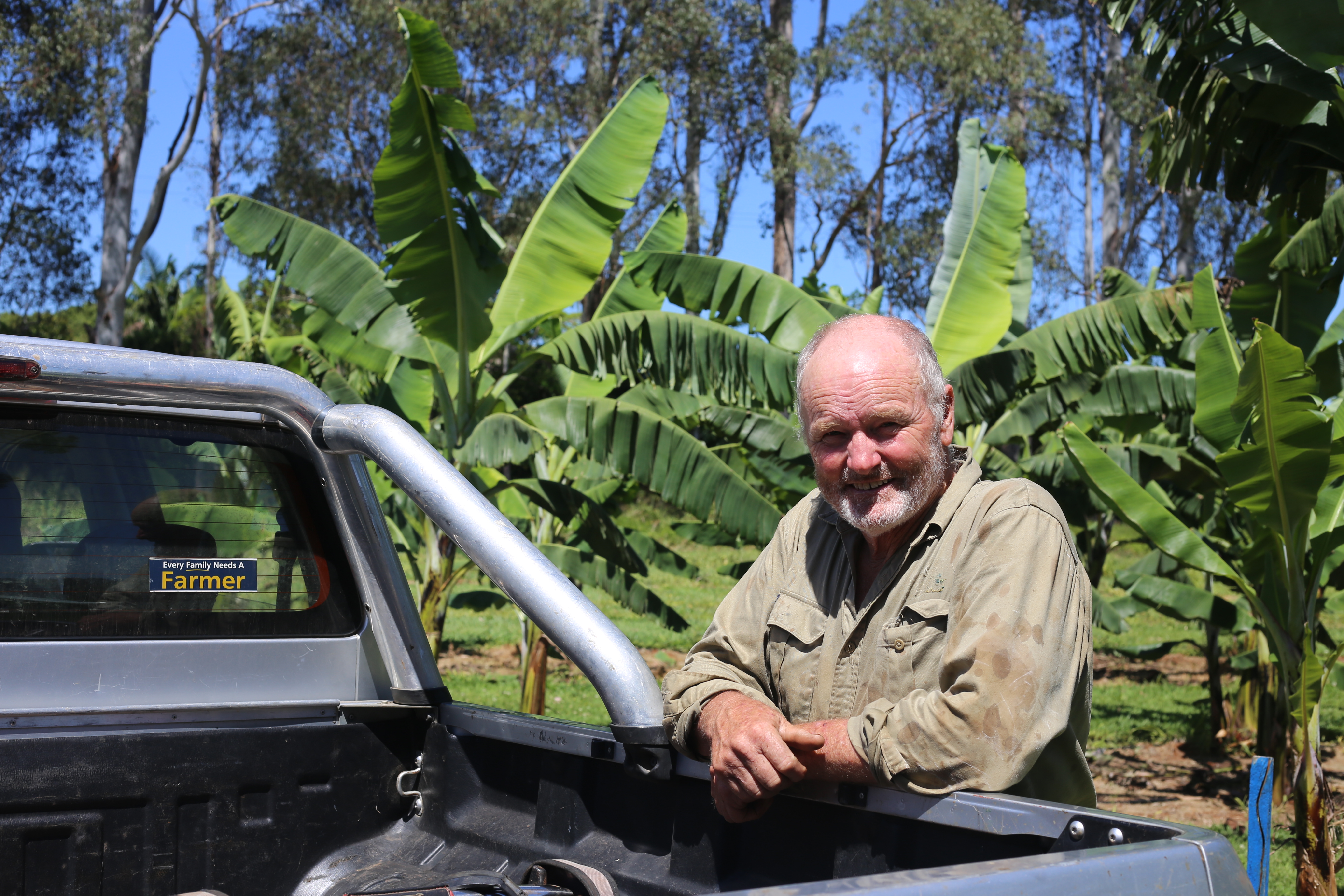 Amy Spear caught up with David Peasley in his final weeks at the Duranbah trial site in Northern New South Wales.
After almost fifty years in the banana industry, David Peasley knows there's a lot to love about the golden fruit and the people behind it.
Announcing his retirement at the end of 2018, he acknowledged he'll miss many aspects of the business – including growers, researchers and Bunchy Top inspectors.
"I've had a terrific experience with the banana industry," he said. "It's been my favourite industry, despite a couple of hiccups – and I suppose you've got to expect that in your career!"
David began his time in bananas working on a farm in Mooball, New South Wales. It was the farm owner's passion for nutrition that inspired David to take the next step, heading to ag college where he wrote his thesis on cultural management of bananas on the Tweed.
The rest, as they say, is history.
David worked tirelessly over the years for the industry – a feat that is acknowledged by many growers and industry representatives.
Northern New South Wales grower Peter Molenaar said the industry had benefited from David's passion during his time as District Horticulturalist, Consultant and in various Project Management positions.
"He is well known for not giving up and achieving positive outcomes," he said.
"I have had the pleasure of working with David on a number of projects over the years.
"The standout has to be the way in which he instilled attitudinal change into growers' psych in their quest to rid the area of Banana Bunch Top Virus."
Peter described David's evaluation and communication skills as 'invaluable' to the industry.
"I thank David for sharing his vast library of knowledge to make our industry a more sustainable one."
Like any new kid on the block, David admits he faced some skeptics when he started approaching growers at the beginning of his career.
"It takes a fair bit of time to win their confidence," he said.
"They're hardworking and tend to be cynical – and I was in government. But I think if you get your head down, show an interest, and know your stuff, you do get respect."
And it's not just the people growing bananas that have become, in many cases, firm friends. The industry's dedicated researchers have also impressed David throughout his extensive career.
"I think the banana industry has some of the best research support in the world. The plant pathologists in Australia are admired internationally and people should appreciate this. When I've hosted visitors, they speak in awe of our scientists."
It's a feeling that is mutual, with Professor Andre Drenth, of the University of Queensland, summing up David as someone with deep know-how of banana cultivation, combined with an energetic approach to deliver practical outcomes.
"David has a unique combination of industry insight and practical knowledge, which he has always shared with researchers and growers for the benefit of the banana industry," he said.
"There is never a dull moment when you are around David."
David Peasley was instrumental in the industry's fight against Philippine banana imports, serving on the risk analysis panel for eight years.
"There were some very trying times in that," he acknowledged. "I wasn't allowed to engage with industry and I had to maintain confidence in Canberra."
He described the time as a real eye opener about what happens 'behind the scenes' and eventually voiced his objection to two senate inquiry findings on the topic.
"I'm glad I stood up, but that was as a lot of personal cost to myself and my family. In the end, we won out and Philippines bananas were kept out of Australia."
One of the other key challenges in David's career played out in 2016.
The year marked the end of his long-time association with the Bunchy Top Project.
A tough but critical project, David acknowledged there were always people who didn't agree with what was happening.
"But I think in the end, growers knew that if they didn't control Bunchy Top, they wouldn't be in business. To the credit of ABGC, the growers up north, and those around Coffs Harbour, they could see that if Bunchy Top wasn't controlled here [in Northern NSW], it could destroy the industry."
While not without its challenges, David sees a bright future for the industry he gave so much of his life to.
"I think there's some really exciting things happening," he said. "You can see some of them here [at the Duranbah Trial Site]."
He's hopeful the industry's focus will expand to include more than just Cavendish. He'd like to see a range of bananas available to consumers who are browsing grocery stores.
"Sooner or later, a major change is needed," he said, noting the variety that is already available in other fresh food categories like apples, potatoes and peaches.
"The demand is there. Consumers are missing out on some fantastic flavours and alternative uses – like cooking and processing, or even as a replacement for potatoes."
David is also keen to see a united, industry-driven focus for bananas into the future.
"It's an Australian banana industry," he said. "We simply can't afford to fight among ourselves."
So after five decades, and countless stories, one might question whether David Peasley will be able to step away from an industry he's been so involved in.
"My wife says yes," he laughed.