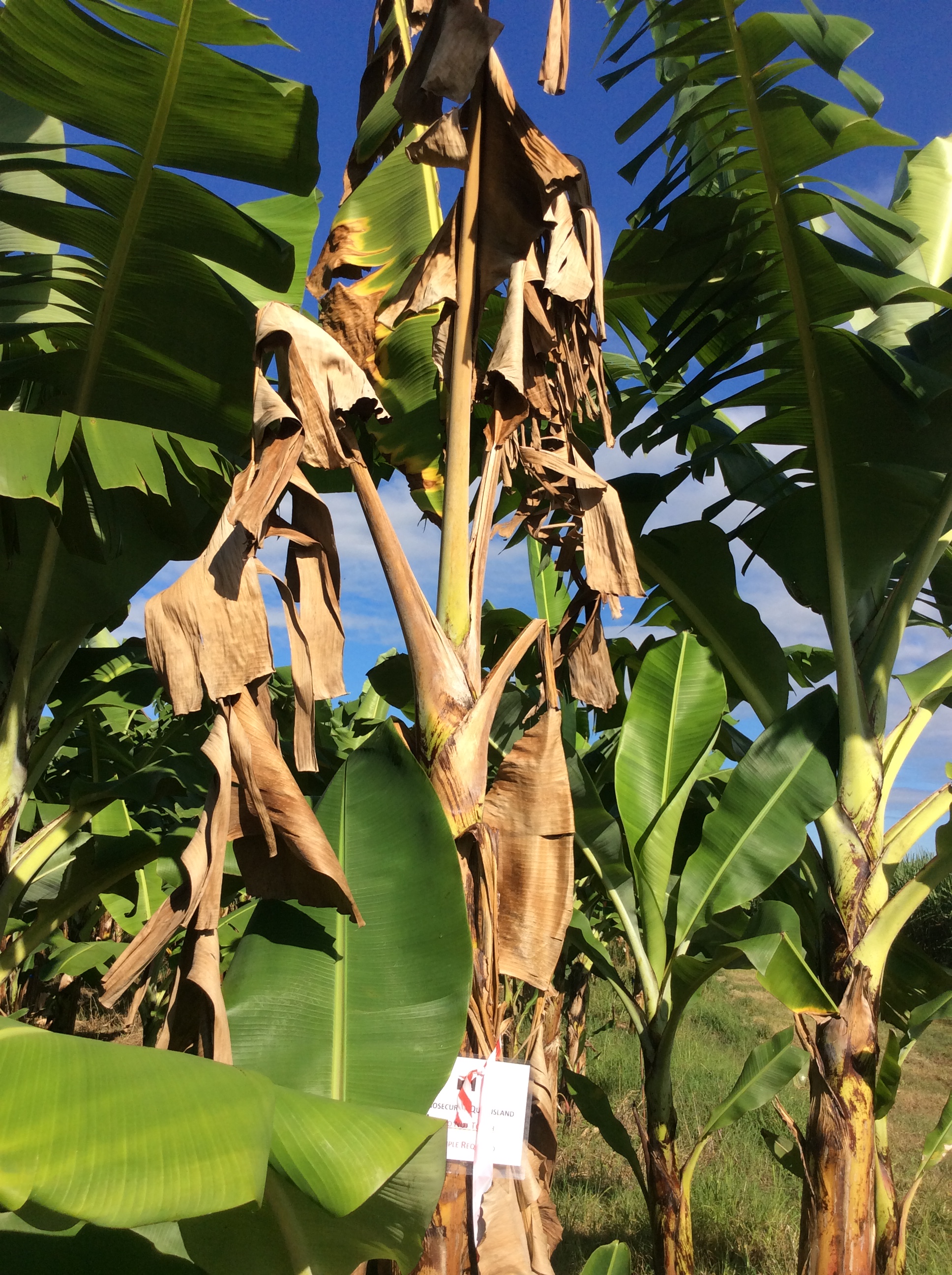 Deanna Belbin, Biosecurity Queensland
Biosecurity Queensland is asking growers to be extra vigilant when dealing with plants showing symptoms of Erwinia, (bacterial corm rot) as plants with Erwinia can also have Panama disease tropical race 4 (Panama TR4).
Panama TR4 Program Leader Rhiannon Evans said Erwinia is more common at this time of year because of the increased heat and rainfall.
"On the first infested property, during the months from February to April, the majority of the plants that tested positive for Panama TR4 also had Erwinia," Ms Evans said.
"In fact, corm rot was the suspected problem rather than Panama disease in the very first plant sampled on the property in February 2015."
Ms Evans said if growers were unsure if it was Erwinia, to give Biosecurity Queensland a call on 13 25 23.
"Ewinia has similar external symptoms to Panama TR4 such as wilting leaves and a skirt forming around the pseudostem. If you're not one hundred percent sure, give us a call and we'll come and check it for you – it's better to be safe than sorry," Ms Evans added.
Ms Evans praised the growers who were reporting suspicious looking plants to Biosecurity Queensland.
"It's great to see growers are checking their plants for signs of disease and calling us if they have any doubts. This shows that they understand if Panama TR4 is contained early, their farm viability can be extended."
Ms Evans said the collaborative effort between industry and government had greatly contributed to the success of the Panama TR4 control and containment effort.
"Even though we've successfully contained this challenging disease to only three farms over four years, we can't be complacent. We don't know where or when it will surface next. It pays to be prepared and to protect your farm with sound biosecurity measures," she added.
To report symptomatic plants phone Biosecurity Queensland immediately on 13 25 23. For more information about Panama TR4, visit our website biosecurity.qld.gov.au. Banana growers who have not received a Panama TR4 Disease Identification Guide can contact the Panama TR4 Program on 07 4091 8153 or email panamatr4@daf.qld.gov.au.