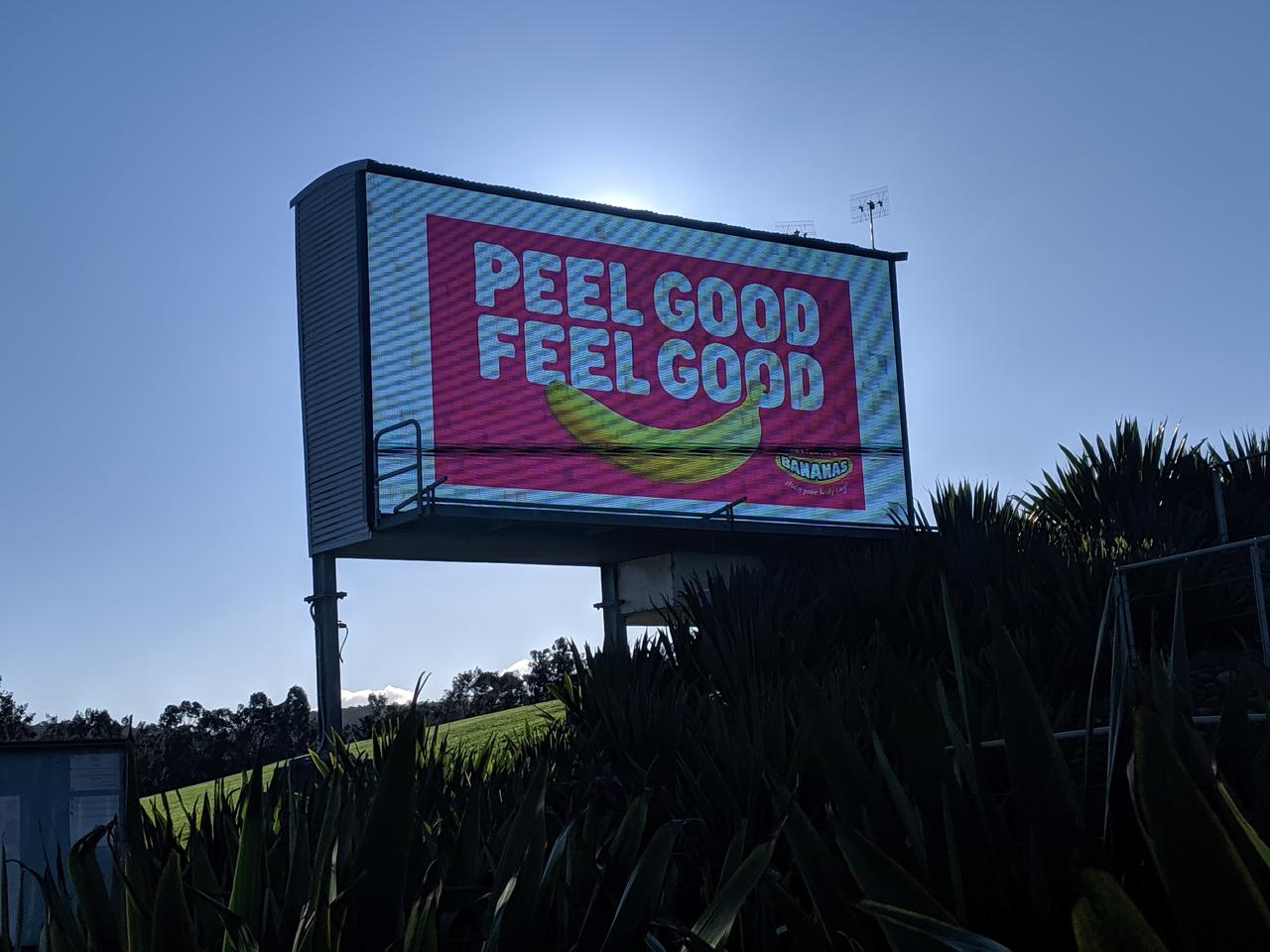 With Australian Bananas kicking off its latest marketing campaign this month, Hort Innovation reports on the marketing successes that closed the 2018/19 financial year.
ABOVE THE LINE ACTIVITY
Television
TV plays a key role in driving mass awareness of campaign communications, ensuring key messages for Australian Bananas are established at scale.
Australian Bananas' Summer marketing campaign which wrapped up on 9 March, successfully hit a goal in every market.
Australian Bananas appeared in eight out of the top 10 programs from January to March. During the course of the last campaign, we took advantage of the strong opening programming schedule of 2019 with programs such as the men's Australian Open Tennis Final, Married at First Sight which went from strength the strength in 2019, and also My Kitchen Rules and I'm a Celebrity Get Me Out Of Here.
This was bolstered by consistently rating news and current affairs programs. As a result, audiences saw the banana ad at least 2 times in all metro and regional markets.
Digital
Digital activity ran from 3 February to 4 May successfully hitting each of its KPIs of Viewability and Completion rate across all strategies which assisted in providing reach across our demographic.
Our 15 secs and 6 secs ads were used across key channels such as Catch Up Television (7Plus 10Play, 9Now), Youtube, Taste.com.au, Spotify, news.com.au and flybuys. Catch Up Television delivered the highest completion and viewability rate of 98% and 93% respectively, while the remaining channels finished with results well above the campaign benchmark of 70%. Our FlyBuys strategy also reached the campaign impression target.
Out Of Home
In the last campaign, Australian Bananas featured across a number of outdoor formats to maximise how many consumers we were reaching and how often we were reaching them. This included transit panels (bus sides, large billboards), retail panels, and advertising in gyms. In total we reached over 2 million consumers in retail, over 1 million across gyms, and over 4 million consumers via transit formats.
SOCIAL
Facebook
In June, 1.17 million people were reached with Australian Banana's content on Facebook.
Instagram
The Australian Bananas Instagram page continues to have a steady follower growth from month to month. In June we saw an increase in total followers, with the page currently sitting at 5849 followers.
PR
We have continued our media outreach to health, lifestyle and news media with a range of new recipes. In June we reached out to lifestyle, food and health media with our winter recipe; 'Upside-down Banana Chocolate Cake.' We secured coverage with top tier consumer lifestyle publications, Australia's Best Recipes (371,220 total reach) and 9Honey Kitchen (118,000 total reach), and key consumer women's publication Girl.com.au (6,000 total reach).
The Australian Bananas ambassador, Susie Burrell, has also continued to post blog posts each month.
In June, Susie developed and shared 'The Best Smoothie Recipes' content piece to her blog and Facebook page.
Events
Australian Bananas have also continued to support events nationwide. We provided provided 1,500 bananas to runners taking part in the Western Sydney Marathon on 1 June, and Australian Bananas branding was prominently displayed on the scoreboards around the marathon site.
EDENTIFY
The results for the lastest Edentify consumer tracking are in (April – June 2019), with key highlights below.
• Bananas remain the clear number one snack, and continue to follow an upward trend: up year on year from 57% to 62%
• Bananas continue to be the top energy snack, up year on year from 71% to 75%
• The significant increase in bananas consumed for breakfast year on year seems to be holding well around the 60% mark, suggesting a positive behaviour shift.
• Both unprompted and prompted recall of the campaign is holding strongly after media activity. Additionally, spontaneous ad recall for bananas remains high, ahead of brands with bigger ad spend.
• The ads resonate across the broader audience, not just the target audiences
• TV and Out of Home marketing have been driving advertising awareness, and strategic online activity is clearly contributing to reaching incremental key young audiences
• Despite the slight seasonal drop, purchase frequency remains on an upward trend year on year
• Bananas are naturally associated with "healthy energy snack"
• The advertising campaign is also creating an emotional connection with the fruit, spontaneously associated with Happy and Fun
• Two indicators have been building up wave on wave in the past year:
– the number of people using bananas for more than just snacking
– the average number of occasions of consumption per day
UPCOMING ACTIVITY
Our next wave of media activity will commence in the beginning of August with our Transit, Retail and Digital strategies entering the market. Social and PR remain always on.
ABOVE THE LINE ACTIVITY
Television
We will continue to use television to drive mass awareness of the Bananas ad and our key messages in both metro and regional markets. Our audience is still watching TV 2.7 hours per day and the bananas advertisement is a strong audio visual asset. Look out for Australian Bananas on your TV between August and September 2019.
Out of Home
We will continue to use a number of outdoor formats to maximise reach and frequency in 2019/2020, including Transit panels (specifically bus sides), retail panels, and advertising in gyms.
Radio
We will partner with the Australian Radio Network to use pre-recorded radio and podcast spots with our jingle nationwide.
Cinema
Cinema is a key channel to provide reach above our other video channels and to drive awareness of our TV ad. It will effectively support both the TV and online activity through reaching new audiences, and will be key during school holiday period peaks between September and October 2019.
Bounty Bags
Australian Bananas will again take part in the New Mother Bounty Bags campaign in 2020.
Bounty Bags are distributed in hospitals nationwide to approximately 230,000 new mums each year.
Each bag includes an 'Australian Bananas' branded banana case and a leaflet explaining the benefits of bananas as both a 'one handed snack' for new mums, and as a baby's first food.
Lady Finger Promotions
We will continue to educate consumers on the differences and versatility of Lady Finger bananas through in-store demonstrations and supported by informative brochures and social media posts.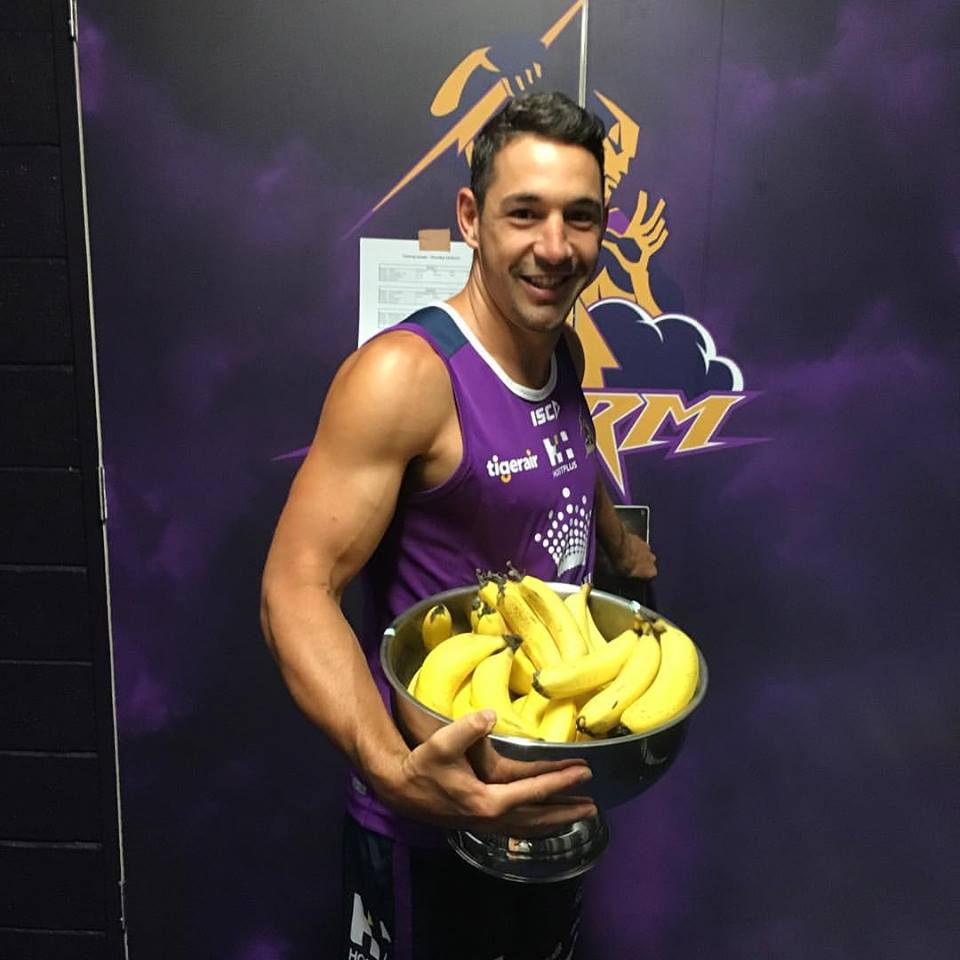 BILLY'S BACK
In a major coup for the Australian Banana industry, Billy Slater has signed on to continue as an ambassador for Australian Bananas in 2020.
Billy has been supporting industry for the past 15 years, regularly trading his former footy jerseys for a bright yellow shirt and fronting numerous advertising campaigns, media events, public appearances, photo shoots and social media posts.
While the Innisfail football legend retired from rugby league at the end of last year, he's still considered one of Australia's most-loved athletes and Hort Innovation is excited to have him continue as one of the industry's biggest supporters.
NATIONAL BANANA DAY 2020
National Banana Day was celebrated on May 1 and will return bigger and better in 2020.
The inaugural event involved a host of activities
– both local and national – including nutritionbased segments on morning television shows, grower profiles, social media blasts and a day of celebration at the Big Banana in Coffs Harbour supported by Australian Bananas ambassadors Billy Slater and Susie Burrell.
The 2020 event aims to generate even more mass media conversation centered around the health benefits of 'na-nas' and the growers behind the produce, with the aim to drive consumers instore to purchase a fresh bunch of their favourite Australian fruit.
Definition of some common digital terms are below.
Completion Rate – The percentage of all video ads that play through their entire duration to completion. Calculated as complete video plays divided by ads served.
Viewability – An online advertising metric that aims to track only impressions that can actually be seen by users. For example, if an ad is loaded at the bottom of a webpage but a user doesn't scroll down far enough to see it, that impression wouldnot be deemed viewable.
Impression – An impression is the display of an ad to a user while viewing a web page. If a single web page contains multiple advertisements from one advertiser, one impression is counted for each ad displayed.