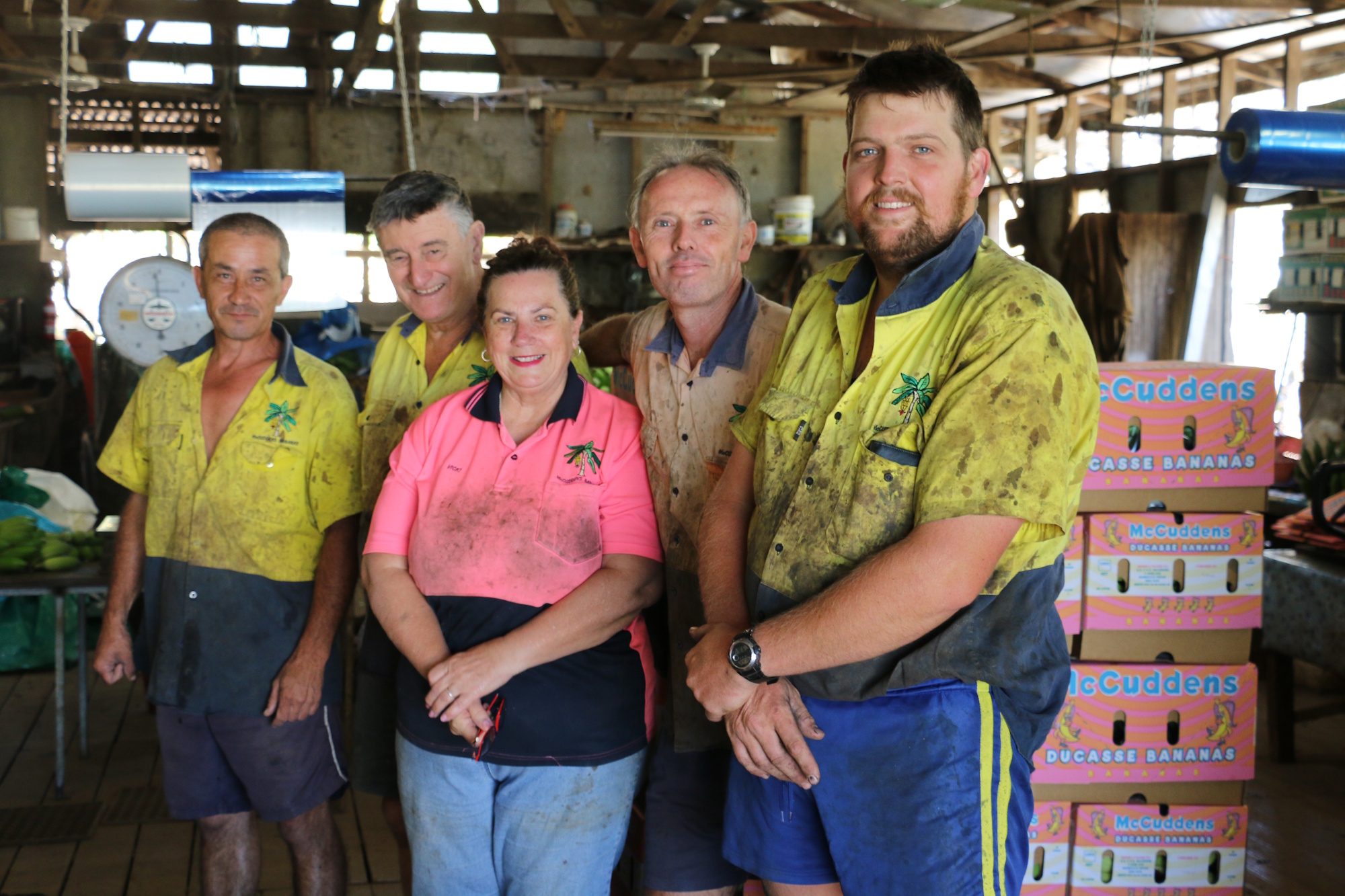 Long-time locals and surf-loving tourists will tell you that Valla, on the New South Wales mid-north coast, is an idyllic destination.
Beautiful beaches, rich agricultural history and that small-town feeling that's getting harder to find.
But if you ask people within the state's banana industry, they'll let you in on another strong selling point: it's home to some of Australia's top ducasse bananas.
By Amy Spear
McCuddens Bananas, with its distinctive hot pink cartons and high-heeled banana branding, is run by Vicki McCudden.
"I started working in bananas many years ago with my first husband, Gary," she said. "Due to the challenge of low prices, I returned to my former career in nursing but packed bananas on my days off."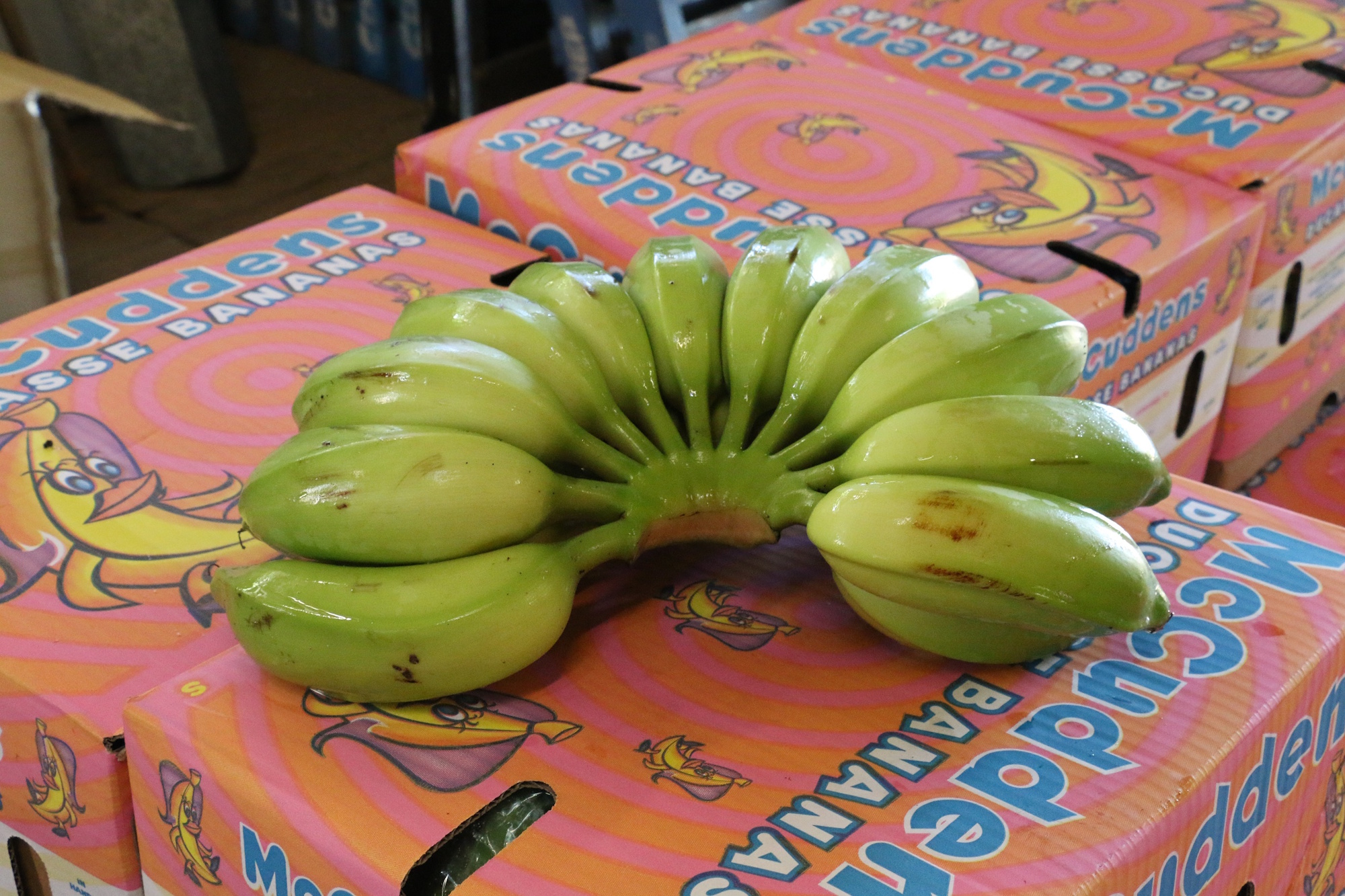 "It was during this time that we diversified into ducasse bananas. Gary was always interested in different varieties. He did the research and hard work organising the plants – and it was with his vision and foresight that we now have the plantation you see today."
For Vicki, banana growing wasn't always on the cards. But she loves it – a fact that is evident in her produce, her plantation and the team that surrounds her.
"When Gary passed there were three people at the plantation who still needed their jobs. There were established markets that still wanted our fruit and my father-in-law – who was 92-years-old at the time – didn't need the stress of finding someone to take over the lease. It was a no brainer. It was the right thing to do and something I've never regretted."
Ducasse, though much less common than their Cavendish or even Lady Finger counterparts, grow well in the subtropical climate.
While demand remains consistent – McCuddens recently added Perth to their existing markets of Brisbane and Melbourne – the variety is labour intensive.
Working on the typically steep New South Wales slopes, they can't use mechanised equipment apart from tractors and quad bikes. Bagging, fertilising and desuckering is all done manually.
"They're heavy feeders and big drinkers which has been a challenge during this dry time," Vicki explained. "We are fortunate that we can irrigate at the moment."
Microbats, parrots and other birds also pose a challenge, and the team is vigilant about the prevention of beetle borer – but they do have one big advantage in that they don't suffer from leaf disease.
The hard work is made easier when spread among five team members who don't mind a practical joke and take pride in what they do.
"I'm so blessed and grateful to have the team I work with…they go above and beyond what is expected."
The team strive to stay on top of the plantation, dealing with 'prolific' suckers and maintaining a regular regime of fertilising, irrigating and keeping weeds at bay.
In a sentiment many growers will relate to, Vicki knows it's all worthwhile.
"I love that we can produce something that is healthy, wholesome and makes people happy.
"I love when someone asks what I do for a living, the surprised look on their face and then a conversation about the type of bananas they eat – usually involving a recipe."
As for what's next?
"I've remarried now to a wonderful man who is also part of the team, but we'll reach retirement age in around six years. I have two grandkids and my son – Nicholas – so who knows what the future holds."
For the time being, one thing is certain. McCuddens will keep producing high-quality, tasty ducasse bananas.