Content
Grower feedback sought on Banana Industry Code of Practice 
BQ update on concerns around sand from Tully River
2021 Nuffield Scholarships open
Cairns to host 2021 Congress
Grower feedback sought on Banana Industry Code of Practice 
Growers are invited to provide feedback on an ABGC-led Banana Industry Code of Practice for planting material.
ABGC and Biosecurity Solutions Australia are developing the Code.
The Code aims to provide detailed guidance to growers on the use of planting material and outline the reasonable and practical steps to minimise associated biosecurity risks and protect the industry. 
The Code will provide a single and clear reference for what the General Biosecurity Obligation (GBO) means for Queensland growers and, similarly, the meaning of the General Biosecurity Duty (GBD) for those in NSW. That is, a mechanism for government to decide if growers are meeting industry expectations in the way they use planting material. 
All people including growers have an obligation to be aware of pests, diseases and weeds and take action to prevent their introduction and spread – e.g. Panama disease TR4, Race 1 and Bunchy top virus. 
The Code is about ensuring your farm business is not put at risk by any ill-considered actions of other growers.
A copy of the Draft Code of Practice is available here 
Alternatively, a hard copy of the Code can be provided. Please call ABGC on (07) 32784787.
Feedback can be sent to Dr Rosie Godwin at rosie.godwin@abgc.org.au by 14 August, 2020
BQ update on concerns around sand from Tully River Catchment
Biosecurity Queensland (BQ) is working on concerns raised by growers regarding the extraction of sand from the Tully River catchment. BQ appreciates this issue being raised directly with the Panama TR4 Program, so it can take collective action to protect the banana industry. 
The Program is working with growers, industry and Cassowary Coast Regional Council to address these concerns both in the short and long term.  
Since this issue has been raised the Program:
has conducted a site visit to the industrial estate and put forward recommendations to Council to minimise risk of disease spread. 
has attained a list of permit holders who extract from the Tully River and will engage with those business operators around their business activities and biosecurity risk management. 
has met and will continue to meet with the Cassowary Coast Banana Growers' Association, Council and ABGC to discuss industry's concerns. 
will work with Council to have industry representation on Council's risk assessment panels to assist in promoting biosecurity best practice in the region. 
are reviewing current research information around risk of disease spread through waterways. 
The Program has been advised that Council:
is looking at alternate sources for sand. 
is looking at how they assess and manage risks on Council activities that could potentially spread Panama TR4 and they will consult with the banana industry.
will consult with BQ for biosecurity advice. 
"Unfortunately, there are many risk pathways for this disease and the best line of defence remains effective on-farm biosecurity," a BQ spokesperson said.
If you want to talk over your on-farm biosecurity, contact Shanara Veivers on 07 4220 4149 or Rebecca Breaden, 07 4091 8140.
If you want to discuss this issue further, please contact Sarah Flenley, Principal Engagement Officer, on 07 4091 8159.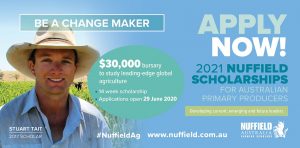 2021 Nuffield Scholarships open
The 2021 Nuffield Scholarship program is open.
Scholarships provide recipients the opportunity to research important rural concepts, techniques and systems that will secure the industry's future. 
The 2021 scholarship program has been reduced to 14 weeks, and provisions made to accommodate uncertainty around international travel restrictions.
There are more than 20 scholarships available, each valued at $30,000. The application period will run until 11 September 2020, with interviews to take place in September and October.
For further information and application forms, visit here 
Cairns to host 2021 Congress
Preparations are in full swing for the 2021 Australian Banana Industry Congress to be held in Cairns on May 12-14.
The Congress Planning Committee is working hard to deliver a superb experience for delegates including an exciting program of events and speaker line-up.
Keep an eye on the event website here for updates in the months ahead.