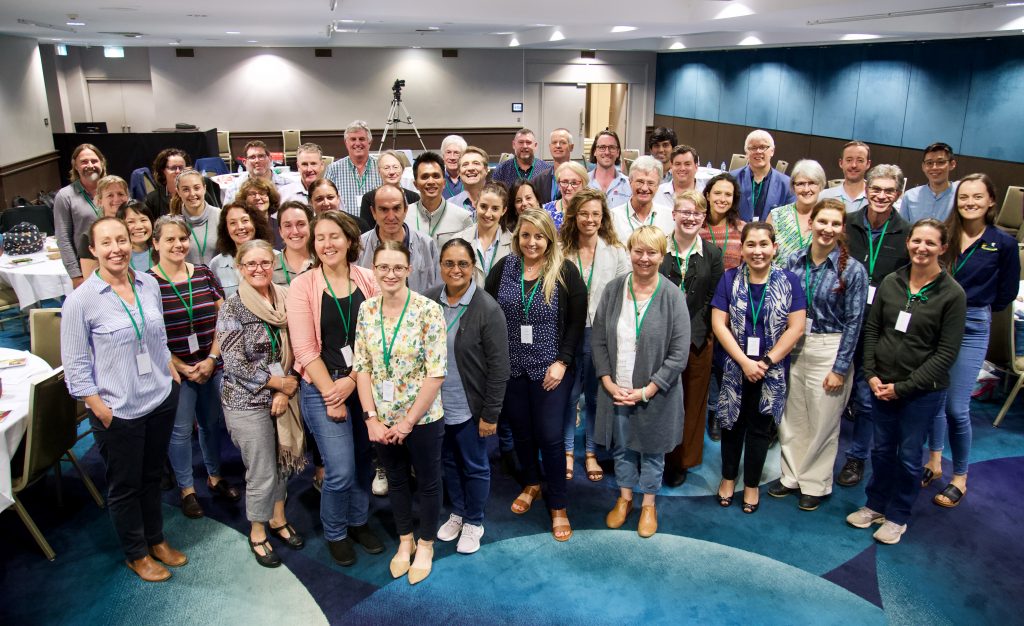 Australia's top banana scientists gathered in Brisbane in April to share the latest research helping to protect and improve farming of the nation's favourite fruit.
Over the course of two days, more than 30 scientists delivered updates to an audience of almost 80 people on a range of topics including Panama disease, diagnostics, consumer acceptance and pest management. The fast-paced, informative presentations were broken up with networking opportunities, allowing the vast community of researchers to develop relationships and share ideas.
Stewart Lindsay is the Team Leader for Banana Production Systems with the Queensland Department of Agriculture and Fisheries. He, along with his project team of Tegan Kukulies, Ingrid Jenkins, Shanara Veivers and Rob Mayers – with the ABGC's Dr Rosie Godwin – organised the event under the banana plant protection project.
"If you went back even 6 or 7 years, the banana research community in Australia was relatively small," Mr Lindsay said. "Now in 2021 you only have to look at the staff from 11 different agencies and universities that are here now to know there's a lot more plant protection work going on in bananas. And we organise these events because of concerns from funding agencies and industry that those scientists working in banana research now aren't necessarily engaging with each other as much as they could, which means they might be missing opportunities to collaborate or share their findings. Not that they have to, of course, but we shouldn't miss those opportunities. It's really about better interaction and communication, hoping that we can expand projects and collaboration, ultimately to improve research outcomes for the banana industry." 
Not only is the banana industry now investing more money in plant protection, the success of the previous Scientific Symposium in 2018 – conveyed via word of mouth as well as through project networks – meant a surge in attendance for 2021. While COVID-19 prevented some people from being there in person, it also provided an added incentive to make the most of a rare chance to catch-up. "I think one of the reasons we have nearly 80 participants this time is that people haven't had the opportunity to travel, to go to international conferences or even mingle for a long period of time," Mr Lindsay said. 
"We had a lot of strong feedback when we asked people if they wanted us to do this symposium completely online – we got a resounding 'no, let's wait' as they really wanted to meet in person. It's the networking that matters. It's about building people's knowledge, but it's also equally about building those relationships and networking." 
The event itself is not designed to replace any interaction or opportunities to share research with growers. Rather, it's a forum for the scientific community to talk among themselves – scientists talking with scientists about the science. 
"People embraced the opportunity to network and openly share their work," Mr Lindsay said. "I commend everybody for the spirit in which they've participated." Mr Lindsay also paid tribute to the Plant Protection project team for their 'mammoth' efforts in organising this year's event.