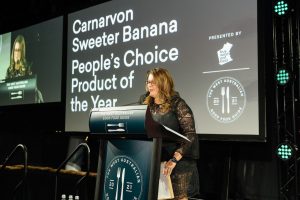 The Sweeter Banana Co-operative continues to celebrate after winning the People's Choice Award for Product of the Year at the 2021 Western Australian Good Food Guide Awards.
Presented by Buy West Eat Best, the inaugural award was a particular honour as it was voted on by West Australian consumers.
Residents of WA were asked to nominate their favourite product and Sweeter Bananas came
out on top. It was a hard fought-for award, with consumers nominating a diverse range of products including other fresh horticultural produce, sauces and chutneys, seafood and even local bakeries.
Accepting the award at a gala dinner in Perth on October 18, Sweeter's Business Manager Doriana Mangili, pictured above, thanked the co-operative's growers, their staff and the public who voted their product No.1 in the state.
"We're very passionate about our bananas, but no- one is more invested than our amazing customers who have voted for us this year and we want to thank all of them," Ms Mangili said.
"We are a co-operative, we are a family, and Carnarvon is our big family. To the amazing community up there, this award is for them as well."
The Sweeter Banana Co-Operative is owned and operated by 18 family-run farms on the banks of the Gascoyne River. The co-op has always prided itself on producing a great product and now has the award to prove it.
"It's one thing to tell everyone you produce the best bananas, but it's another for your customers to validate it," Ms Mangili said.
The award is considered even more special, after a tough year of weather-related events and the impacts of COVID.
"This is a fabulous recognition for our hard-working growers who are part of the Sweeter Banana co-operative which will be celebrating 20 years in 2022," she said.
"Sweeter Bananas have been a founding member of the Buy West Eat Best campaign since 2008, a movement which evolved after people demanded more accurate labelling about where their food comes from.
"Our Carnarvon Sweeter Bananas are hyper local and by aligning with the Buy West Eat Best program, we've been able to differentiate our products as a local one consumers can trust."
Sweeter Bananas Chairman Chris Collins said
he was not surprised by the win after seeing a groundswell of support from consumers on social media in the lead up to the awards.
"Consumer feedback has grown as the profile of our bananas has increased; we can truly claim to grow WA's favourite bananas," Mr Collins said.
An estimated 15 million Sweeter Bananas end up in lunchboxes and Western Australian households each year, a number that has not happened overnight.
"By recognising that our locally-produced, smaller, sweeter bananas had a point of difference from other bananas, we have worked hard to market them to our local audience and WA customers now seek out Carnarvon bananas because they taste so much better," Mr Collins said.
Sweeter Banana plans to celebrate its 20 years as a co-operative with events and promotions throughout 2022 to commemorate the visionary growers who founded the co-operative and the dedicated WA consumers that continue to choose Sweeter Bananas each day.