Update on Brisbane Markets following major flooding
Grower meetings to discuss Panama TR4 Program transition 
ABGC Board meeting outcomes
Clean Up Australia Day
Facemasks in Western Australian packing sheds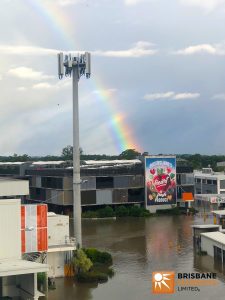 Update on Brisbane Markets following major flooding
After a major clean up overnight, the Brisbane Markets opened this morning for limited trade, following major flooding. 
The site was inundated by flood waters which reached a peak on site of about 8m on Monday morning, approximately 1m lower than the 2011 flood peak. 
As waters receded, the majority of wholesalers have worked around the clock to return to trade with site owner Brisbane Markets Limited (BML) now having a clearer picture of what will be required to restore the markets to full capacity.
"We still have a lot of work to do to ensure that Brisbane Markets® is fully functioning, but we know what we have to do and how to do it," BML Chair, Anthony Kelly said.
"Our efforts overnight were impacted by ongoing road closures leading to difficulties accessing the site via main arterial roads.
"Now that there is better access back to site, we are undertaking essential reinstatement works to clean up and restore all services and warehouses."
Grower meetings to discuss Panama TR4 Program transition 
When the ABGC is running the Panama TR4 Program from 2023, should industry fund diagnostics costs required to determine the presence of TR4?
How often should TR4 surveillance teams inspect each farm?
Do you have a view on how a future destruction protocol should look?
How do you think we can make the TR4 Program more cost efficient?
These are just some of the questions the ABGC is asking growers as we seek input into the transition of the Panama TR4 Program from Government to Industry by July 2023, as outlined in the recently released Discussion Paper
All growers are invited to attend any of the below meetings to discuss the transition.
The meetings are being hosted by ABGC across the following locations:
·       INNISFAIL:  Thursday 3 March, 10am at Queens Hotel*
·       MISSION BEACH: Friday 4 March, 1pm at Mission Beach Resort*
·       TULLY:  Thursday 10 March, 10am at Tully Leagues Club*
·       SOUTH JOHNSTONE:  Friday 11 March, 1pm at DAF Research Centre
·       MAREEBA: Thursday 17 March, 10am at DAF Mareeba
·       SILKWOOD: Friday 18 March, 1pm at the Silkwood Hotel*
·       BABINDA: Thursday 24 March, 10am at Babinda Taskforce community centre
* Requires proof of vaccination to attend.
It's recommended that all attendees read the Discussion Paper in advance, and note questions that they'd like to have answered on the day.  
If you're unable to attend any of the above meetings but still wish to have your say on the future management of TR4, contact Geoff Wilson on 0418 644 068 or email geoff@abgc.org.au
Board meeting outcomes
The ABGC Directors and senior staff held their quarterly board meeting in Brisbane last week.
The two-day meeting (which saw WA Director Doriana Mangili and QLD Director Andrew Serra attend via video link) discussed a range of key issues affecting industry including;
TR4 transition
Directors heard that broad consultation was continuing with growers to gain feedback on how TR4 in North Queensland will be managed into the future after the Panama TR4 Program transitions to industry leadership from July 2023.
Growers are being urged to have their say on key decisions the ABGC will make under a new-look, lower budget program, including surveillance levels, destruction protocols, diagnostics and cost-cutting.
Directors supported plans for a number of grower meetings to be held this month as part of this consultation process – as well as continued one-on-one consultations – noting that it was important for growers to have their say on the future of the program, particularly where cost-efficiencies could be made.
Workforce Update
Director of Migrant Workforce at DAWE, Mike Ryan, addressed the board meeting to provide an update on the new Australian Agriculture Visa.
Feedback was given to ensure the Ag Visa shapes up to meet the needs of growers to address worker shortages in agriculture regions and the need for incentives for these visa holders to work in regional and rural areas.
Absconding workers was also discussed. The ABGC would like to hear from any Approved Employers (AEs) – or anyone who works with AEs – who have had issues with absconding workers, including;
·       How many? How often? What impact it has had on your business? Cost to your business? Have you been able to replace these workers? Why do you think they left? And, how many hours did they work before absconding?
If you, or someone you know, has had issues with absconding workers, could you please email details to Sonia Campbell at sonia@abgc.org.au
Weekly Wholesale Market Price Report 
Directors discussed prices from the Markets and noted that ABGC commenced buying and reporting Wholesale Market Prices on a weekly basis in December. These are available here
Feral pigs
The ABGC has received another recent injection of funding into its feral pig eradication program in the Tully Valley.
The Board heard that a 3 February meeting of the Feral Pig Executive Oversight Committee resolved for $60,000 in unspent program funds be made available to ABGC for ongoing aerial control.
Aerial shooting has removed 3050 pigs since 1 July 2017 to 3 February 2022. Ground control measures have removed 3880 pigs as at 31 December 2021. This takes the total number of pigs removed from the high risk TR4 zone to 6930.
Congress 
Planning for the Australian Banana Industry Congress is well underway. The Congress Planning Committee has begun work on formulating an exciting program for delegates. The event will be held in North Queensland at a date and location soon to be announced.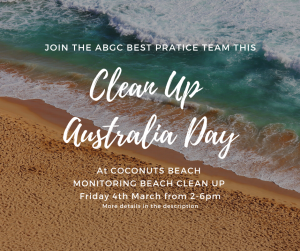 Clean Up Australia Day this weekend
Grab the family and come lend a hand with ABGC's Best Practice team this Friday 4 March at Coconuts Beach for a monitoring clean-up hosted by ReefClean.
Meet at 30 The Esplanade, Coconuts (at the end of Palm Avenue) from 2-6pm. Late-comers welcome.
All equipment and drinking water will be provide by ReefClean. Don't forget your hat, sunscreen, enclosed shoes, and water bottle.
To register or any other questions, please email molly@abgc.org.au or visit here 
Facemasks  in Western Australian packing sheds
The Western Australia Department of Health has advised that people working in packing sheds do not need to wear a face mask, if the employer believes the mask is creating a risk to the health and safety of their employee – for example, overheating.
This advice refers to a similar question received from the Shearers Association, however, the department has indicated that  this advice is relevant to packing sheds as outlined below.
"Whilst working in the shearing shed and undertaking duties that requires strenuous exercise, causing increased perspiration it would not be advisable to wear a mask.  
This is in accordance to the direction "the nature of a person's work means that wearing a face covering creates a risk to their health and safety" More here 
In addition to this, masks when damp or soiled are deemed ineffective and so would not prove useful with this line of work. "
It is recommended that in order to keep the staff safe whilst working indoors, growers should ensure staff follow health and hygiene protocols here