The banana industry has a great reputation for adopting environmental best management practices.
The majority of growers respect the natural environment and the Great Barrier Reef and understand the impact their farming can have on the quality of water into local catchments.
The North Queensland banana industry Water Quality Strategy 2017-2020 has been written with a focus on extension and working with growers to help them improve their adoption of nutrient and sediment management practices.
The banana industry's Water Quality Strategy is part of a broader effort to improve the quality of water flowing into catchments around the Great Barrier Reef.
In March 2015, the Queensland and Australian governments released the Reef 2050 Plan. The document provides the overarching framework for protecting and managing the national icon until 2050.
The strategy also takes into account the 2013 Scientific Consensus Statement.
Reef Report Cards are released every year and help to measure progress towards the Reef Water Quality Protection Plan's targets.
Find Report Cards dating back to 2009 here

. 
The 2016 Report Card infographic: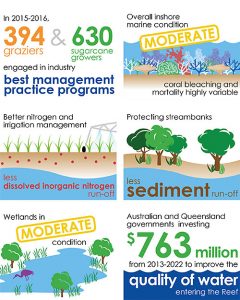 | Title | Link |
| --- | --- |
| Improved Practices Catalogue (QLD Gov) | https://www.daf.qld.gov.au/business-priorities/environment/sustainable-agriculture/improved-practices-catalogue/bananas |
| Farming in Reef Catchments (QLD Gov) | https://www.qld.gov.au/environment/agriculture/sustainable-farming/reef |
| Water quality in the Great Barrier Reef (GBRMPA) | http://www.gbrmpa.gov.au/managing-the-reef/how-the-reefs-managed/water-quality-in-the-great-barrier-reef |