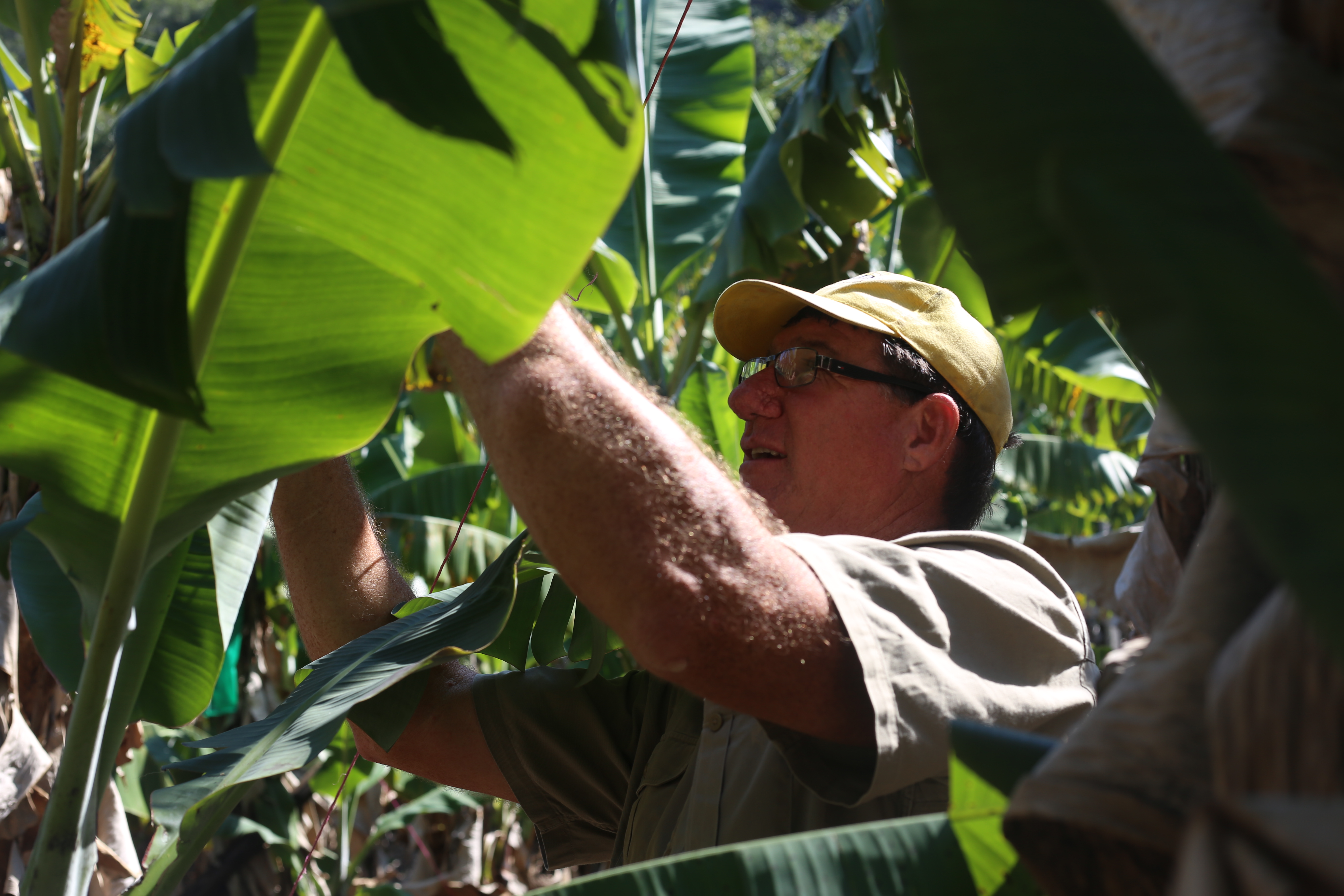 Battling Bunchy Top is an ongoing challenge for Australia's banana industry and 2018 has been another interesting year for projects in South East QLD and Northern NSW. 
Project leader Barry Sullivan has this update.
Northern New South Wales 
Work has continued in Northern New South Wales, despite the project originally being slated to finish in December 2017.
A variation to the project has been approved to extend its life.
The inspection staff continue to visit as many farms as they can each month in an effort to keep the virus under control and assist farms in remaining viable.
During a routine visit, inspectors walk across the farms in lines, looking for the disease symptoms including stunted plant growth, shorter and narrower leaves, colour changes to the leaves and ultimately the telltale dot dash lines and stripes visible on infected plants (it is often not easy to see).
Infected plants (clumps) are then destroyed by an injection of herbicide, insecticide and over-sprayed with paraffin oil.
South East Queensland
The Queensland project is contracted until the end of the 2018 -2019 financial year.
All of the farms that have had infections over the past nine years of working on this project are still inspected monthly with any infections detected treated.
Backyards and private properties remain a threat and even though more than 8000 properties have been inspected over the years, Bunchy Top still persists in home gardens. Properties adjacent to commercial banana farms continue to be inspected when possible.
Bunchy Top data analysed by world's best 
All infections that are detected and treated are recorded and mapped. In fact, the project now has historical data dating back to 2009 in the system.
Recently this data set was analysed by one of the world's leading epidemiologists, Professor Chris Gilligan from Cambridge University in the United Kingdom under the Hort Innovation project BA17001 led by Assoc. Prof. John Thomas.
Chris and his post-graduate student Hola Kwame Adarakey worked with the data and ran a number of models across the dataset. The outcomes of this process were presented at the recent project Banana Bunchy Top R & D workshop in Brisbane providing further insights into the current status of the disease, potential spread and the risk timeframe.
A further data analysis was carried out by a student from Queensland University of Technology. Mr Abhishek Varghese focussed on a particular farm in Northern NSW where there has been a lot of infection over the past four years. He is investigating how the infection moved around the paddock and the relationships between plants and the infection. This analysis continues as Mr Abhishek is now looking at the relationships with weather data in that region, which may reveal more about the virus.
The virology science team (Dr John Thomas and Dr Kathy Crew) has continued to support the projects by assisting with lab identifications and providing advice on chemical efficacy. Additionally, they had considerable involvement with the BA17001 epidemiology study. There has also been a lot of discussion regarding latency of the virus in banana plants and how this can be tested. If proven, this may pave the way for new treatment ideologies.
Looking ahead
The national project is likely to continue in its current form until June 2019, when a new project is expected to be contracted by Hort Innovation.
Keep an eye on ABGC communications for more details.