Content
#nana4afarmer social media campaign
Early destruction of Panama TR4 infected plants on infested properties
TR4 research projects given green light
Tribute to NSW banana industry veteran
Banana Women's Network returns
Protect your farm at the front gate 
#nana4afarmer social media campaign
The Australian Banana Growers' Council has launched a new social media campaign to help drive consumption.
Developed by the ABGC Communications Team, the #nana4afarmer campaign aims to encourage consumers to buy more bananas, as a way of supporting growers currently feeling the pressures of industry challenges.
#nanan4afarmer – pronounced nah-nah for a farma – will be promoted across all ABGC social media channels, and will complement existing campaigns already being delivered by Australian Bananas.
Growers and industry supporters are encouraged to share the campaign on their socials – please make sure you tag #nana4afarmer in your social media posts.
Check out the first video here 
Early destruction of Panama TR4 infected plants on infested properties
There's good news for Panama TR4 infested property owners, as changes to the Queensland biosecurity manual mean the destruction process for new infected plants begins earlier at polymerase chain reaction (PCR) stage.
For Panama TR4 infested properties only, positive plants will now be identified using PCR diagnosis instead of vegetative compatibility group (VCG) diagnosis. With 100% consistency between PCR and VCG testing since 2017, this diagnostic change alone will reduce the length of time the infected plant remains standing from six weeks to approximately 10 days.
"Helping the grower act quicky by destroying plants early reduces the chance for fungal spores to build up and infect other plants, which is critical to the ongoing viability of their farms," said Donna Campagnolo, Acting Panama TR4 Program Leader.
All plants on infested properties confirmed to have Panama TR4 at PCR diagnosis will continue to be destroyed by the property owner in accordance with Section 12 of the Queensland biosecurity manual. No changes have been made to the destruction protocol.
All infested property owners will also be given the choice for each sample to go through to VCG diagnosis, however from 1 July 2022 this will be at the grower's expense.
Coming into effect on 30 March 2022, the changes were instigated from recommendations made from last year's Epidemiological Review into Panama TR4
For further information, contact the Acting Panama TR4 Program Leader, Donna Campagnolo on 0476 846 793 or email Donna.Campagnolo@daf.qld.gov.au
TR4 research projects given green light
Last year, the Panama TR4 Program Board (Board) commissioned an epidemiological review into Panama TR4. The review provided a list of recommendations aimed to guide industry manage the disease for the long term.

Since the review was published, three research projects have been given the green light by the Board and are proceeding:
how management practices shape the microbiome and affect the susceptibility of bananas to Panama TR4 by increasing the understanding of host-pathogen-microbial interactions
the early detection of Panama TR4 using sensor technology
Elongation Factor (EF) Sequencing to identify if there is a particular genomic sequence that can be used as a diagnostic tool for Panama TR4.
The projects are expected to be completed by July 2023.
Read the full version of the 2021 Panama TR4 Epidemiological Review

Read the Chair's statement in response to the Review 
Read the latest Snapshot report from the Panama TR4 Program Management Board.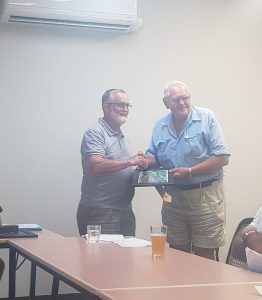 Tribute to NSW banana industry veteran
NSW banana industry veteran Ron Gray, Woolgoolga, passed away last week.
Ron, pictured top right, started growing bananas in the early 1950s. His family had been linked to the industry since the 1930s. 
In his time as a grower and industry advocate Ron served as chairman of the Australian Banana Growers Council in 1999/2000 and of the then NSW Banana Growers Federation. 
Ron's main family farm was situated on Creek Road. 
He was awarded life membership of the Coffs Harbour and District Banana Growers Association in February 2019. The funeral will be in Woolgoolga at 10am Tuesday (12 April).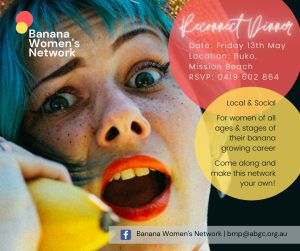 Banana Women's Network returns
The Banana Women's Network is returning.
This fun and social network is open to women of all ages and stages of their banana growing careers. 
A Reconnect Dinner will be held on Friday 13 May at Buko, Mission Beach. The organisers are keen to hear what activities and opportunities participants would like to access via the Network in future. 
Early RSVPs are encouraged via bmp@abgc.org.au or 0419 602 864.
Join the @Banana_Women's_Network group for updates: www.facebook.com/groups/1938799556363058/
Protect your farm at the front gate 
It all started with a sign! One of the simplest on-farm biosecurity practices you can put in place is a sign at the entrance to your property displaying your up-to-date contact number. From there placing signs that tell visitors and staff what you would like them to do as they enter your property will help ensure your on-farm biosecurity practices are followed. 
Check out some of the creative signs with bold colours and graphics that growers have implemented on their properties at the Better Bananas website
If you would like to discuss your on-farm biosecurity don't hesitate to get in touch with one of the National Banana Development and Extension team on 07 4220 4152 or betterbananas@daf.qld.gov.au
This resource has been developed as part of the National Banana Development and Extension Program (BA19004) which is funded by Hort Innovation, using the banana research and development levy, co-investment from the Department of Agriculture and Fisheries and contributions from the Australian Government. Hort Innovation is the grower-owned, not-for-profit research and development corporation for Australian horticulture.