There's not too much more that can be thrown at Australian banana producers at the moment.
Market prices below cost of production, high production rates, ongoing COVID consumer buying challenges, labour shortages, quality issues and now global economic pressures continuing to drive up the cost of inputs. In this time of unchartered challenge, does something have to give?
By Sonia Campbell
Resilience is a necessity in farming, but the past two years have thrown more challenges at industry than most growers can recall.
Already battling through long periods of poor returns, the arrival of COVID put an unprecedented level of pressure on almost every Australian banana business as labour was thrown into turmoil – and continues to impact operations – while severe weather events have also taken their toll.
Now, with the additional pressure of escalating farm input costs, including skyrocketing prices of fertiliser, chemicals, freight and fuel, many growers (at the time of publishing) were selling fruit well below the cost of production. With this vortex of pressure from a volatile global economy, combined with increased labour costs, high production levels, consumer buying challenges and farmgate pricing issues, many are questioning how much more some growers can take.
Speaking from his Innisfail banana farm in Queensland's far north, Tony Alcock and his farming family have had more than their fair share of knocks in the past 12 months. In March last year – during the height of COVID – they lost 50 per cent of their hanging fruit during Cyclone Niran. Last month (March), they were forced to cut down half of their crop due to an extreme heat wave, which affected fruit quality. And now, like most Australian producers, the cost of inputs on their farm has become exorbitant.
"My father has been farming bananas for the past 60 years, I've been doing it for 25 years, I've never
seen it like this before, ever," Tony said.
"After Cyclone Niran, we were lucky that we had a plant crop (still standing) that pretty much got us through it. But since then, it hasn't got better. We've just suffered through two weeks of a heat wave. "This week we've cut down 50 per cent of our crop, because it was unsellable. Usually, a heat wave goes for about three days, but this one actually went for two weeks. And then, the week after that, we had a flood event. So, we've just copped a hiding."
But it's the rising cost of inputs, combined with consistent low returns, which has Tony most concerned for the future. And he believes a government subsidy scheme is needed for industry to survive.
"The cost of freight's gone up around 20 per cent, cartons have gone up as well. Fertiliser used to
be $800 a tonne, it's now $2300 a tonne. We go through about 40-60 tonne every six weeks, in a cycle.
"Chemicals for our weed spraying used to be $180 for a 20-litre drum, now it's $500. And we can't pass these costs on. We're stuck with that price. The solution is hopefully a subsidisation. If the government can help subsidise some freight, or the cost of a chemical, just to get back to reasonable rates."
"It's just not sustainable at all. If something doesn't change, I think half the industry will be missing by the end of the year."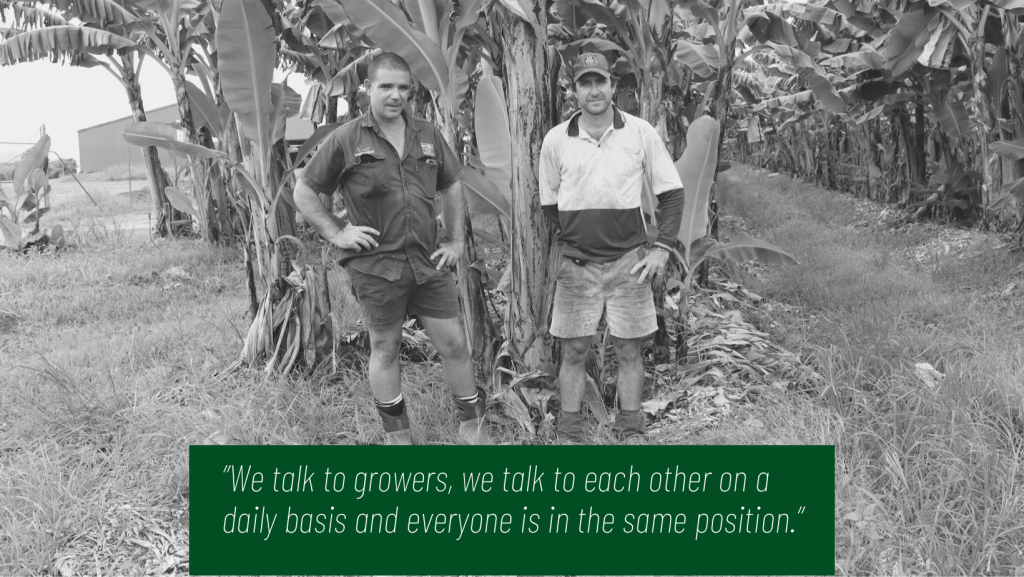 Fellow Innisfail grower and Chair of the Cassowary Coast Banana Growers' Association Dean Sinton agrees that industry is experiencing unprecedented times.
"It's definitely unchartered waters for growers at the moment, and it's not just our growers, a lot of other industries are feeling it as well. But, it's certainly something we haven't experienced before," Dean said.
"Since the inflation of fuel and fertiliser and chemicals, just those three things have driven up our cost of production dramatically. And returns are continuing to go down. We're hearing from some growers reporting single figure sales on the market in some cases, so it's just not viable to send (fruit).
"I mean (right now), you can buy a kilo of bananas for less than half the price of a take-away coffee."
Dean was also impacted by Cyclone Niran and said while severe weather events were part of life in the North, the pandemic and impacts from global financial issues had struck without warning.
"We're in the part of the world where we are vulnerable to weather events here and we're all aware of it, that's the risk we take growing here," he said. 
"But COVID, it hasn't helped our situation over the last two years, and now with the inflation costs and cost of production, growers really are struggling.
"We've had minimal time to prepare and try and change our farming practices for the inflation of fertiliser and chemical prices, and also the fuel inflation. There was minimal time to prepare for that and it's really hit everyone's back pocket at the moment."
"Speaking to some people, it's possible they are not going to see the year out."
Boogan grower Charles Camuglia suffered 100 per cent crop loss in Cyclone Niran and said recovery had been "the toughest by far" due to the impacts of COVID and rising production costs.
"We've been growing bananas since the mid-90s, and started the packing shed in 2003, but the past year has been particularly hard because we are still pulling out of that previous cyclone (Niran), we've poured everything back in to get this crop and we've come into a market of low demand for the product and low prices.," Charles said.
"But increased inputs are the latest, hardest issue for sure. In the last month alone, our increases are basically $1.50 (per carton), that's just in the last month, between fuel, chemicals and fertiliser.
"With COVID, cities are dormant, people aren't buying. Demand has definitely dropped and at the
current rate, it's not sustainable. We talk to growers, we talk to each other on a daily basis and everyone is in the same position."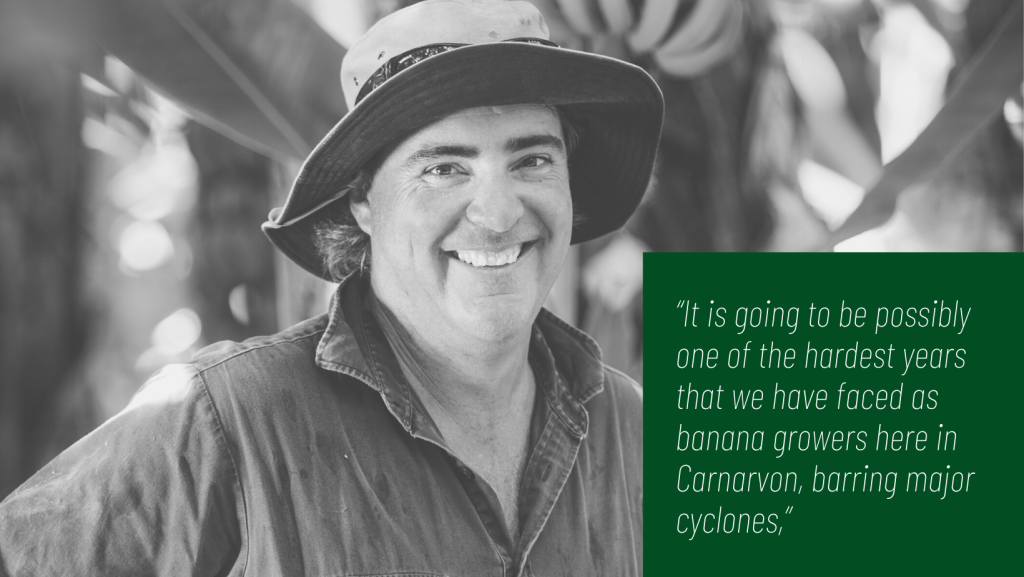 Western Australia
Impacts of COVID, low prices and increased cost of production are being felt by banana growers Australia wide, including those in WA. 
Chris Collins from Mundillya Farms, who is also chair of the Sweeter Banana Co-operative in Carnarvon, said Sweeter growers were also feeling the pinch, despite experiencing a bumper production season.
"It is going to be possibly one of the hardest years that we have faced as banana growers here in Carnarvon, barring major cyclones," he said.
"Input costs have gone up. Wages have gone up, packaging, freight and fuel has gone up. And one of the biggest issues is the cost of fertilisers which has basically tripled.
"For a small operation like mine (18 hectares of bananas) it's like an extra $100,000 a year for fert alone."
Chris said some smaller operators were battling through the challenging times, particularly COVID, by working their farms themselves and having less overheads.
"I know other growers are saying that fert is one of the major issues, other growers do a lot of work themselves so the labour issue they are a bit sheltered from. But most people on farm have struggled their way through COVID.
"I know personally we will probably be able to ride it out for a fair bit longer, but we are growing other crops as well. But obviously those growers under financial pressure already, it's going to be very hard for them to continue."
Staffing has been a significant issue at the Sweeter Banana packing shed since COVID, operating with skeleton staff through one of the best production years in six or seven years.
"With the current volumes, the packing shed would normally have had 40 staff, so it's running on a third of that."
Growers are now hoping for prices to turn around, a normal occurrence in winter when production drops off.
"We just ask that consumers support growers and the retailers that stock our product by buying a couple of extra bananas, just a few extra each week increases demand and helps all of us to sell more at the right price."
New South Wales
Jeff Eggins has experienced a lot in 36 years of growing bananas, currently farming Cavendish at Woolgoolga on the mid north coast of New South Wales since 2005 and prior to that operating in the Pillar Valley.
But he says nothing compares to the challenges growers are facing today.
"It's the worst we've ever seen it. Everyone is feeling the pinch, not only bananas.
"Everything has gone up. Fertilisers have doubled and chemicals have nearly doubled. Fuel costs have gone up which affects everything.
We send excess fruit to Sydney and we're slugged extra freight charges. But (market floor) prices have not gone up and that's the bit that hurts."
Mr Eggins said most growers in the area had been selling below the cost of production for the past five years, but he also considered himself one of the "lucky ones" as he sends the majority of his fruit direct to a local retailer.
"That's all that has kept us in bananas for the last 15 years. If we didn't have that direct market we'd be going backwards."
Mr Eggins said compounding inflation problems was a severe short supply of chemicals and fertilisers, with many supplies coming from overseas.
"Urea and potassium sulphate, just basic fertiliser, you just couldn't get it."
Growers in northern NSW and the mid north coast have also experienced their own severe weather events over recent years, including bushfires and more recently, flooding. But Mr Eggins said the uncertainty of the future, and the many complexities involved in both the pandemic and global economy, was causing growers the greatest concern.
"The problem is, we don't know when it's going to end."