Field walk at South Johnstone (QLD)
Banana growers and industry stakeholders are invited to attend a field walk at South Johnstone Research Facility on the 22 September 2023. Come along to see and hear about the latest variety trials, research on bunch pest management and the new fertiliser rate trial.
Click here to RSVP and for more information.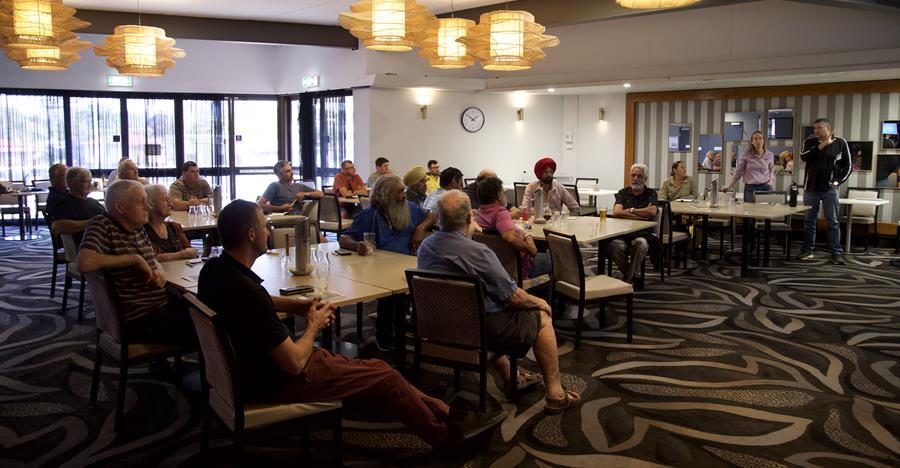 Almost 50 growers from Northern and the Mid North Coast of New South Wales got an insight into the latest banana research last week, as part of the Mini Banana Roadshow Series.
Held in Coffs Harbour and Murwillumbah, the events featured updates from the National Banana Extension and Development team on topics relating to pest management and variety development. ABGC's Supply Chain Engagement Manager, Andrew Burns, also provided some insights into consumer marketing.
A big thank you to the many growers who made time to come along.

Share your thoughts on how your levies are used
Have your say about the outlook for horticulture and the impact of investment of your levies by participating in Hort Innovation's annual Grower and Partner Survey.
The survey, which takes just 15 minutes to complete, is an important source of feedback to ensure Hort Innovation is delivering value for growers by investing strategically to address the industry's priority challenges and opportunities. 
Closing on Friday, September 15, results from the survey will be made available to all participants.
Growers are invited to participate in the survey by clicking on this link.
Community awareness – new video spreads the word on Panama TR4
Panama TR4 is here to stay and as a community, we need to share knowledge and raise awareness of this destructive soil-borne fungal disease. 
Hear from FNQ growers on why on-farm biosecurity practices are important and ways that we can help slow the spread.
Reminder for FNQ growers: Important BQ consent letter 
To commence surveillance under the new TR4 Control Program, the ABGC require growers to supply a signed informed consent form to Biosecurity Queensland (BQ).  
This consent form enables data captured by our experienced surveillance team, to be shared between ABGC and BQ. This consent is critical to the continued containment and management of TR4, and protection to the wider industry. 
Please return the completed form (either printed, scanned or photo format) to panamatr4@daf.qld.gov.au or in the postage paid envelope provided, as soon as possible. 
The mail out from BQ is staged. If you have any questions or concerns, please contact Program Manager, Geoff Wilson on 0418 644 068 or geoff@abgc.org.au
FREE NUTRIENT MANAGEMENT WORKSHOPS IN FNQ 
The ABGC's Best Practice team have also opened registrations for the next round of highly rated FREE Nutrient Management Workshops.
The workshop covers: 
•    basics of banana nutrition
•    identifying common nutrient deficiencies, toxicities and diseases
•    taking and reading own soil and leaf tests
•    developing a nutrient management plan
•    reading your fertiliser labels
•    Queensland Government Reef Regulations
The workshops are limited to small groups of up to six growers to allow us to provide tailored information and interactive discussion.
Watch this short video about the workshops delivered so far: 
Have your say in National Farmer Priorities Survey
Farmers across Australia are being asked to take part in the first ever National Farmer Priorities Survey. The survey, led by the National Farmers' Federation, aims to better understand the pressures facing farmers to ensure a strong industry voice on key issues. Take a moment to have your say for your chance to share in $2,000 worth of prizes. Click here: https://ncv.microsoft.com/bMVrh3MLAD