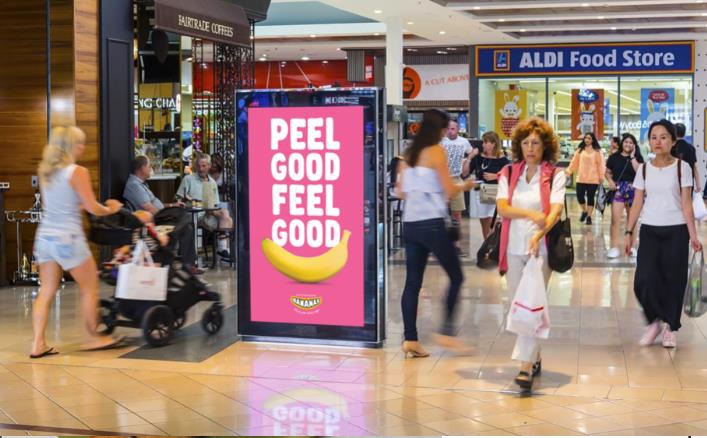 The results for the first half of Australian Bananas' 'Peel Good, Feel Good' campaign are in – and they've exceeded the benchmark in all areas. 
If you've caught Nine News or The Project, streamed some morning tunes on Spotify or watched the latest blockbuster at the cinema – chances are you might have spotted the latest Australian Bananas campaign.
Funded by the marketing levy, through Hort Innovation, the Peel Good, Feel Good initiative has spanned television, digital, movie theatres and out of home (think busses and gyms) over a number of months.
Television
Australian Bananas appeared in all of the Top 10 metro television programs from August to September, targeting all grocery buyers.
Using 30 second and 15 second advertisements, in both metro and regional areas, the Peel Good material appeared during programs like The Block, The Bachelor and Survivor, as well as news and entertainment programs like The Project and A Current Affair.
The Block on its own consistently averaged one million viewers, delivering the banana message to a huge number of people.
Across all major cities and in regional areas, the reach of these advertisements either met or exceeded expectation.
Digital
The Australian Bananas digital campaign has now finished (12/8 – 31/10), with some incredible results across a range of mediums including catch-up television and Youtube pre-rolls (those 15 second ads that play before your clip).
Catch-up television includes popular shows on 7, 9, SBS and Foxtel, while YouTube targets the chosen demographic, with a female skew across lifestyle and food content.
In this period, YouTube delivered 174% over the impression target, reaching more than 4 million people. Catch-up television was not far behind, delivering 135% over the target. The completion rate for watching these ads was at 81%, well over the bench mark of 70.
The Peel Good material also appeared on entertainment and lifestyle websites (Mamamia, NewsCorp, Fairfax and Nine), as well as Spotify and apps like MyFitnesspal and Surf Report.
Australian Bananas also ran FlyBuys within this period targeting active, lapsed, lapsing and new buyers of bananas in supermarkets. This activity is ongoing and results will be available at a later date.
Cinema and Out of Home
If you caught a movie from September 6 to October 11, you might have been one of more than 2.25 million people in the target audience who viewed the Peel Good, Feel Good advertisements.
Aussie bananas have been equally hard to miss out and about, with material appearing on bus panels, in retail spaces and in gyms.
Bus and gym signage appeared nationally, while advertisements in retail spaces were rolled out in five capital cities.
Tribe, Social Media and the Australian Bananas website
Australian Bananas have begun using Tribe, an online marketplace that connects brands with influencers. Essentially, this is a way to deliver content through platforms like Instagram and Facebook, using popular social media personalities.
Think delicious post-workout recipes shared by fitness enthusiasts, or breakfast inspiration from a lifestyle blogger.
Initial results have been excellent, with a potential reach of 691,583.
The Australian Bananas Facebook page continues to kick goals with its fans, reaching 1.56 million users in October alone. This marks the highest result for the year so far.
The standout post for October was 'The secret to a happy life', which achieved a high engagement rate of 37.56% and plenty of comments.
Instagram content was also strong, reaching over 555,000 users and delivering more than 123,000 engagements at $0.06 each.
The Australian Bananas website recorded an increase in visitors throughout October, with a range of 507-1355 visitors per day.
PR – Nosh Box and Susie Burrell
In October, Australian Bananas partnered with Dietitian Connection to provide bananas as part of their Nosh Box gifting program.
These boxes, filled with delicious treats, are delivered to influential dietitians across Australia.
More than just a gift, recipients were required to fill out a survey with banana-specific questions and many shared content with their online followers.
All up, Australian Bananas secured 25 pieces of social coverage including through Nourish Naturally (159K followers) and The Fitness Dietitian (231K followers).
Bananas brand ambassador Susie Burrell continued to do a fantastic job in promoting the fruit, sharing 'The Best Breakfasts to Kick Start the Day', which included a number of references to bananas.
One of the cutest PR initiatives also continued in October, with Bounty Bags given to more than 17,000 new mums.
Looking ahead
As the year comes to an end and the weather heats up, media relations activity will increase as Australian Bananas promotes some delicious Christmas and summer themed recipes. These include a Bananamisu and Banana & Mango Frozen Yoghurt Pops.
Keep an eye out for these tasty treats and more Australian Bananas initiatives in 2019!